By Jonathan Williams
Whether you've ever heard of
Celldweller
or not, you've likely heard the band's music in movie trailers, TV shows and
WWE
pay-per-views. The brainchild of former Circle of Dust front man Klayton, Celldweller's cyber rock incorporates techno, trance, drum & bass and industrial rock for a sound that is futuristically aggressive. With the first leg of his
Wish Upon a Blackstar Tour 2011
kicking off at
the Masquerade
in Atlanta this Friday, Klayton takes a moment to talk about Celldweller's place in pop culture today.
You're starting your tour in Atlanta. How will this show and tour compare to your last Atlanta show at
Dragon*Con
?
For starters, we had a very abbreviated set at Dragon*Con. I think we only had a 30 or 40 minutes set, so this going to be a full 65-70 minute set with more content, new songs and a much  more intimate setting considering that Dragon*Con was 3,500 people. I think it will definitely be a different experience all around the board.
The second member of Celldweller's live incarnation is Bret Autrey, whose solo project is Blue Stahli. Since you produced Blue Stahli's album, do you guys work any of those songs into your set?
Not at the moment. His debut album came out about a month and a half ago on my label,
FiXT
. Part of the whole premise here is getting him onstage with me to kind of introduce my fanbase to him and the fact that he and his music exist. As it turns out, a lot of the people showing up to the shows already know Blue Stahli, so that's a good sign.
One of my first club concerts was another one of your bands, Circle of Dust, back in '94 or '95.
Yeah, I can't even remember how far back that would have gone. But as it turns out, Atlanta was always an anomaly for me because Circle of Dust was on a really small label with really no support from anyone. For some reason a show down there had been playing some of my songs and one of my tracks ended up becoming one of the most requested songs on
88.5
, the college station there. All I knew was the first time we ever played Atlanta we played a place called the Cotton Club and it was sold out. There were 350 people there and I couldn't believe it because the rest of the time we were touring, we were playing for 30 kids or 50 kids, depending on the market. The next time we came through Atlanta, we played the Masquerade, which is an 1,100-capacity room and we sold that out. We loved playing Atlanta because that was the closest we were ever going to be to rock stars at that point in our lives.
Like Celldweller, Circle of Dust was a solo project with a touring band. And while they are somewhat similar, there was a slight change in direction from industrial rock to more techno and trance-influenced rock with Celldweller. Why did you decide to go in a slightly different musical direction?
That's just part of being human. As a human you change naturally and I wasn't going to fight that. What really propelled the whole thing was that the label I was signed to at the time went into bankruptcy and there were all kinds of legal battles between the label and all of the artists, including me. That basically tied me up for a year and a half where I couldn't release a new album or anything, and I couldn't really continue forward as Circle of Dust. It was around then that
Criss Angel
had approached me to work with him on some music. At that point I decided I was going to end Circle of Dust, work with Criss and we had our own project together, Angeldust, for the next six years. From there Celldweller was the most obvious next step for me because I had changed musically over time and I wanted something completely fresh.
Did Angeldust do much touring or was it more of a studio project?
Your first CD came out in 2003, but your newer music is only being released online.
Right now it's being release digitally only. Instead of making people wait two years while I work on an album, then release the whole thing at once, I'm releasing two songs at a time. The next step after that is actually releasing the full disc. As of now there are eight songs towards the new album that have already been released over the last few years. Then, in a few months, the actual full-length CD will be pressed and it will include another four or five songs people haven't heard yet. We've had a lot of success with that and that's what my fanbase wants. We came up with the idea of instead of making people wait, let's give them music right now. For the people who care, they'll buy it. For the people who don't, they can wait for the CD. What I ended up doing was not only releasing two songs at a time, but with those two songs I've also released generally a half hour to 45 minutes' worth of demos for the two songs being released. So people can hear from the earliest inception of where the idea started all the way up through the finished product by listening to 15 or 20 demos per song. I also take it another step further by doing an audio commentary over the demos so I can kind of explain where this idea came from or whatever. That's sort of a deluxe release that's only, like, a buck or two more than the standard release. My fanbase has really responded to that and actually come to expect it. We're just creating our own model for the current day and it's working for us.
Another way that you've gotten your music out to broader audiences has been through licensing it to movies and video games, and having the song "Fadeaway" used as the official theme song for WWE's Night of Champions pay-per-view last year.
Yeah, I've had music in a lot of movies, a lot of television, a lot of video games. Some of it is licensed and some of it is actually custom work. For instance, the game
Dead Rising 2
, I wrote the theme for the game. Then there are other times where people say, "We love this song you've already created. We want to license it for our movie, this video game or that TV show." That absolutely helps float the ship, for sure.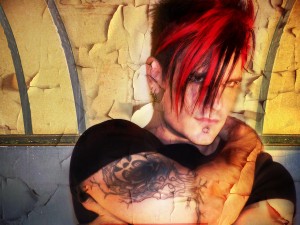 Aside from having "Fadeaway" licensed for that pay-per-view, have you ever done anything collaboratively with WWE?
I've been approached to do that, but the timing wasn't right so I didn't actually do anything. That's not to say that maybe in the future something won't happen, but as it stands right now I haven't done anything directly [with WWE].
I don't know if you're a wrestling fan, but are there any particular people you'd like to do entrance music for or anything like that?
I actually haven't owned a television feed in two years, so I don't even know what's going on in the real world. I live in the digital age and I get the content I want to watch and stream it from the web. I don't even have time to watch much TV, so it's very difficult for me to stay up on all the TV shows, all the wrestlers and other stuff.