By Jonathan Williams
Rob Van Dam has held many championship titles and been known by many nicknames during his wrestling career. One of the few titles he has yet to hold is a National Wrestling Alliance championship, but that's not stopping "The Whole F'n Show" from making his first NWA Wrestling Legends Fanfest appearance in Atlanta this weekend. As he prepares for the fanfest (as well as a match against Crimson this Sunday at Total Nonstop Action Wrestling's Hardcore Justice), RVD talks to Wrestling with Pop Culture about his career.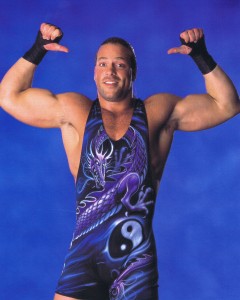 You've held many titles in wrestling, and you've held titles in companies that have previously been affiliated with the NWA, but you've never actually held an NWA title. How did you end up on this weekend's NWA Fanfest given that you've never wrestled for the NWA?
I believe that to be true. One interesting, little-known fact that crossed my ears many years ago is that out of any other WWE Champion, I've held more championship titles than any other champion. Meaning that I have been the most decorated and diversified. That's something that I'm proud of. An NWA title? No, I guess not.
The NWA was mostly defunct when I was coming up in the business. I think it was around for my first few years maybe, but shortly after that WCW was born and the NWA really kind of was unheard of for a while. Then some territories opened up under the NWA banner to carry on and one of those territories was in North Carolina with Greg Price. Greg Price has been a friend of mine for a long time. I met him way back in 1991 when I went to the Carolinas to wrestle Manny Fernandez. Greg Price was one of his promoters in the office and since that day, we've continued to do business and he's always helped me out. I've always wanted to attend one of these because every year I hear that the NWA Fanfest is the largest wrestling convention that the fans get to go to. No matter where I'm at all year long for several years, I've always heard the fans asking, "Are you going to be at the NWA Fanfest this year, Rob?" I've always wanted to make it, but I'm always booked somewhere else. This year I finally get to make it.
The next day I have a pay-per-view for TNA Impact Wrestling, so I'll be in Atlanta all day on Saturday signing autographs, taking pictures, meeting and talking with the fans and letting them fill my head with positive energy about how awesome I am and how I've impacted their lives.
This is the first time the NWA Fanfest has come to Atlanta, and your first NWA Fanfest. Is that a coincidence?
It's really just a scheduling thing. [Price] usually has this in Charlotte, which is closer to his home base. I would have also been able to make it to Charlotte this year, but from what I understand this thing has been growing so big that having it in Atlanta will be advantageous for travelers to come in and out of the Atlanta airport. I know for sure that fans come to this thing from all over, from England, Australia and all over the country. They really look forward to it, so they make a vacation out of it. If you're a huge wrestling fan, this is something you don't want to miss. I'm looking forward to seeing a lot of my friends that I bump into here and there, and a lot of friends that I haven't seen in years, so it's a good time for us, too.
Many of the guests are legends of the industry, hence the name Legends Fanfest. How does it feel to be one of the few people appearing there that can clearly be considered a legend while also still actively wrestling?
It's awesome. I'm really enjoying this part of my career where I've got more experience than most of the wrestlers and I know what I'm doing in the ring. At the same time, my body feels great and I can still move like when I was 25. There's not a lot of wrestlers that fit into that category besides RVD. I feel like I'm a phenomenon because of that. I started professionally way back in '89 and went to the Sheik's school. And, of course, before that I was a huge dedicated fan and wrestling was a big part of my life. It's pretty much been a lifelong thing and to be able to still go in the ring and do every move that I've ever done after 20-plus years is great.
Some of these guys helped make me a star. When I see Greg "The Hammer" Valentine, I think about back to 1992 or '93 when the fans didn't even know who Rob Van Dam was yet. I was wrestling Greg "The Hammer" Valentine and learning about the psychology and he was teaching me to hone my craft. A lot of these legends helped fill that spot.
Of course "The Million Dollar Man" Ted DiBiase will be there and he was part of your first on-screen wrestling experience.
Yeah, I was a fan that time when I got into the ring. I was in the crowd when they were doing the promotional piece where "The Million Dollar Man" would prove that everybody has a price. I was the most horrible negotiator in the world, by the way. He had been doing these bits on TV where people would keep raising the money. Like, he went to the emergency room in front of all these broken up people and said, "Nurse, I need a Band-Aid." And she'd say, "Sir, you'll have to wait." Then he said, "Virgil, lay down $100." And she said, "Sir, there's a huge line." And he said, "Virgil, lay down $200." And she said, "Well it wouldn't be fair…" And he said, "Virgil, $300" until she said, "Here's your Band-Aid." That was the whole deal, but I was so excited when I got to go in the ring and he said, "I'm going to give you $100 to kiss my hot, stinky, sweaty foot." I don't think he even finished the sentence before I kissed his foot. Then I was like, "Dude, Virgil. What's up, bro." I've learned how to negotiate a little better since then.
I was at another wrestling show later that month and I made it into the souvenir program. I was trying to show the person beside me, "You see this picture? You see that kid?" Right away the guy goes, "Oh, that's all planted." That's the attitude with a lot of people with everything. But it's that suspension of disbelief that you look for when you watch a movie or whatever. You want to forget about what's draining your energy and invest your time into this, but some people won't buy anything.
You're taking on the undefeated Crimson this Sunday at Hardcore Justice. What are your thoughts on that match?
He's still undefeated and that's what he's got going for him. Otherwise, I'd be like, "Who is this kid?" But the fact that he's undefeated definitely makes people take notice. That's what people noticed about Goldberg when he came in. And that's what attracted me to the Ultimate Warrior when I was a kid. He was just crushing everybody and nobody could beat him. Crimson has that momentum and obviously he's impressing a lot of people. He's good, but then again I'm "The Whole F'n Show." That's how I'm looking at it for Sunday's match.
NWA Wrestling Legends Fanfest Weekend. $20-$224, free for children ages 10 and younger. Aug. 4-7. Atlanta Airport Marriott, 4711 Best Road, Atlanta, Ga. 404-766-7900, www.robvandam.com, www.nwalegends.com.