In his new visually stunning film Hugo, Martin Scorsese has produced a movie that seamlessly incorporates 3-D technology with compelling storytelling in order to pay homage to childhood and the pioneers of special effects films. Part Harry Potter, part Little Orphan Annie, part Journey to the Center of the Earth, part A.I. Artificial Intelligence (including an appearance by Jude Law) and part film history lesson, Hugo (like the bestselling Brian Selznick book on which it's based) creates a world where imagination, dreams and invention intertwine to tell the story of a young boy, left on his own after the death of his parents, trying to connect with his father through a shared love of clockwork and gears.
Left with his drunk uncle after his father's death, Hugo (Asa Butterfield) lives in a Paris train station where he dutifully continues his uncle's work of winding the station clocks after his uncle disappears. Afraid of being sent to an orphanage, Hugo hides in the walls and does his best to avoid being noticed by the station's resident inspector, played by Sacha Baron Cohen. When he is caught stealing parts for an automaton left behind by his father from a toy shop in the station, Hugo becomes involved with the shop owner, Georges Méliès (Ben Kingsley) and his family, particularly goddaughter Isabelle (Chloë Grace Moretz). Together, Hugo and Isabelle uncover a connection between the two families that forces Georges to face his past. As it turns out, Papa Georges is the Georges Méliès, director of the ground-breaking French films of the early 20th Century. One of the first directors to incorporate special effects into films, Méliès is known for creating dream-like cinemagraphic experiences, mirrored by Scorsese in Hugo. Through the innocent eyes of children, Méliès is able to recapture his own imagination and innocence that was destroyed, along with the majority of his films, by the first World War.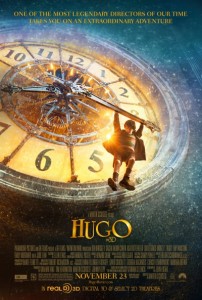 With scenes that reference other early films, such as the Lumiere brothers' L'arrivée d'un train en gare de La Ciotat and Harold Lloyd's Safety Last!, Hugo is very self aware and a touch self indulgent, heralding the magic of film. It also features clips from other early films such as Méliès' A Trip to the Moon and Edison Studios' The Kiss.
Although the novelty of the groundbreaking 3-D may float this film at the box office, it may struggle to find an audience for its thoughtful and complex message. Theoretically a children's film, it runs a little long for short attention spans (the two little girls sitting next to me were both asleep with more than an hour left in the film). Plus, an appreciation for this film requires a sense of nostalgia for childhood (and knowledge o cinema history) that is impossible for those with fewer than ten years under their belts.
Hugo. Directed by Martin Scorsese. Starring Asa Butterfield, Ben Kingsley, Sacha Baron Cohen and Chloë Grace Moretz. Rated PG.  www.hugomovie.com.
Review by Jennifer Waller Sibley