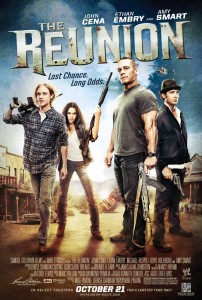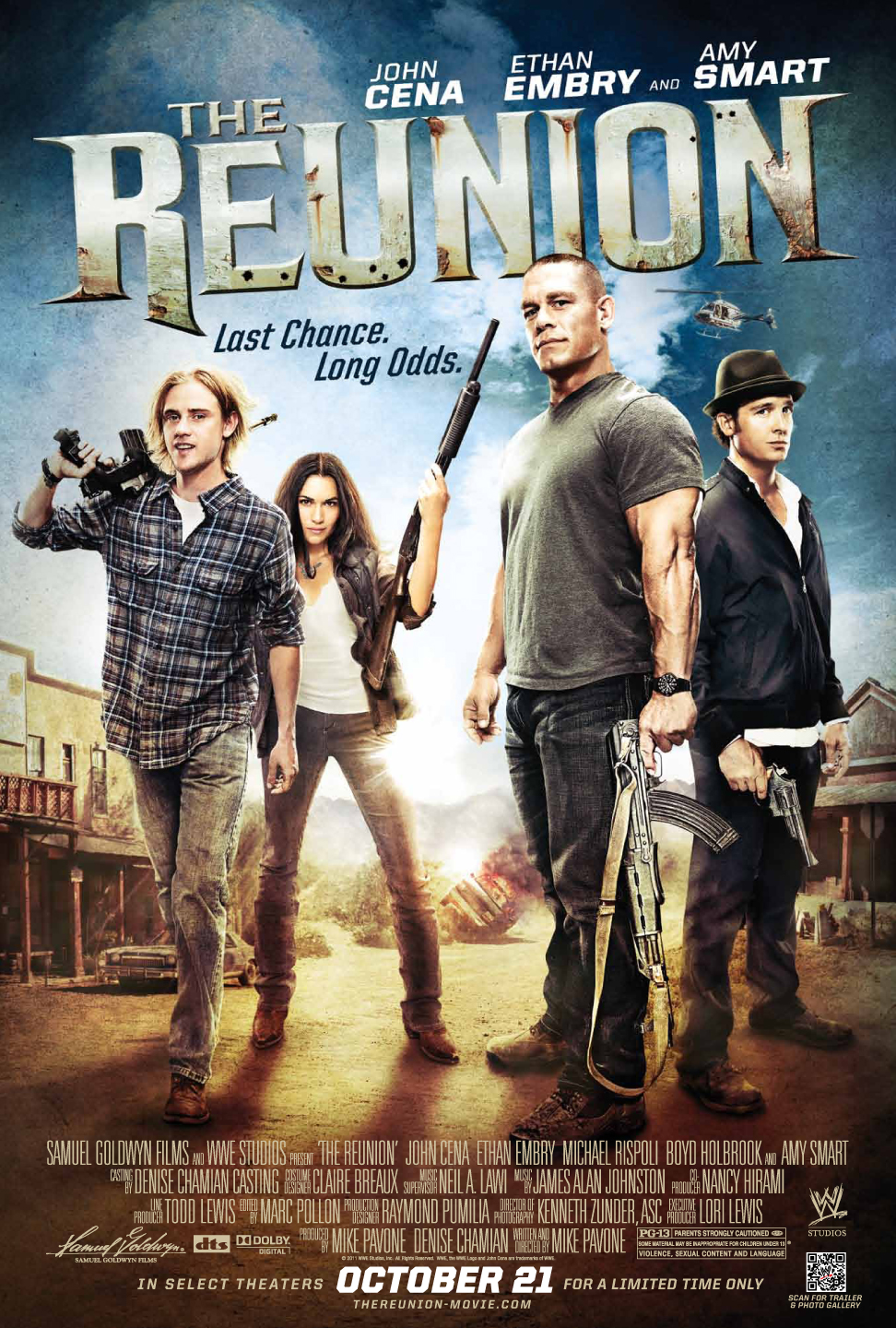 When he's not being WWE's proverbial Boy Scout on Raw, John Cena seems to be quite adept at playing cops, soldiers and the like in such WWE Studios releases as 12 Rounds and The Marine. And in the latest production from WWE Studios and Samuel Goldwyn Films, The Reunion, Cena once again plays the convincing role of a take-charge police officer.
Available today on DVD and Blu-ray, the film features a somewhat convoluted plot about estranged siblings being brought together when their deadbeat dad kicks the bucket. The good news for them is that the dad that was never there for them when he was alive has willed each of them a few million dollars. The bad news is, the only way they can get the money is if they go into business together. It doesn't take long for things to haphazardly fall into place as Sam (Cena), a cop on suspension for his aggressive tactics; Leo (Ethan Embry), a sleazy bail bondsman only out for himself; and Douglas (Boyd Holbrook), a young and charming orphan fresh out of prison, find themselves in Mexico in search of  a wealthy businessman (Gregg Henry) who has been kidnapped.
If that's too much to wrap your head around, the movie provides plenty of action and comedy to keep your mind off any potential continuity problems. It seems that each of the four siblings (Amy Smart plays Nina, the sister who has been left in charge of their father's estate) has adopted at least one of their father's characteristics despite their best efforts to not be like him. Sam is headstrong and has a short fuse, Leo is selfish and untrustworthy and Douglas (who was orphaned and is meeting his family for the first time) is a bit of a womanizer, though in an apparently more gentlemanly way than his father, who sired each child with a different mother.
Combine that dynamic with the occasional encounter with a Mexican drug lord, a famous local stripper and other untrustworthy natives and you've got an action comedy caper with populist appeal (much like WWE itself). Cena once again proves that, should he ever decide to put his multi-championship wrestling career behind him, he's capable of being an action hero (not quite on the level of his WrestleMania XXVIII opponent and Survivor Series tag team partner Dwayne "The Rock" Johnson just yet, but at least on par with the likes of Jean-Claude Van Damme and Steven Seagal). And seeing the musclebound Cena riding horseback while wearing a cowboy hat is comically reminiscent of Arnold Schwarzenegger in 1979's The Villain.
Forced to work together in order to survive various perils and obstacles, the Cleary brothers not only make it through the ordeal, but reluctantly create the brotherly bond they've never previously had. And despite a bit of a gotcha ending, it appears that these siblings eventually learn to accept each other for who they are and will keep this new family business of private investigating up and running. Sure, it's a bit hokey and predictable, but as long as you're not expecting anything more than some WWE-style escapism, The Reunion provides the humor, drama and action you're likely to expect.
The Reunion. Written and directed by Mike Pavone. Starring John Cena, Ethan Embry and Boyd Holbrook. Rated PG-13. www.thereunion-movie.com.
Review by Jonathan Williams