Atlanta's Plaza Theatre is the city's only remaining independent movie theater. Despite celebrating the cinema of yesteryear with events such as Professor Morte's Silver Scream SpookShow, Blast-Off Burlesque's Taboo-La-La and Gorehound Productions' Splatter Cinema (as well as current films), the Plaza is struggling now more than ever to keep its doors open. Now a  a 501(c)(3) nonprofit, the Plaza celebrates a big weekend of events beginning with tonight's Save the Plaza March.
Costumed supporters of this longstanding theater will begin gathering at 5 p.m. before heading down Ponce de Leon Ave. at 5:30 p.m. This parade of kooky Plaza performers and anyone else who wants to dress up and join the cause will turn left after a few blocks before heading back up North Ave. and returning at the Plaza around 7 p.m.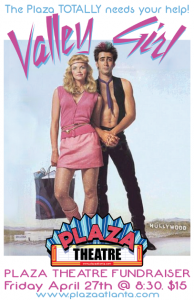 The fundraising festivities continue tomorrow night as the Plaza screens the totally rad '80s romantic comedy Valley Girl at 8:30 p.m. But like most Plaza events, there will be more than just a movie screening with additional festivities beginning at 7:30 p.m. There will be silent auctions and prizes from local business such as Ria's Bluebird, the Euclid Avenue Yacht Club, Fantasyland Records, Stratosphere Skateboards, Diamond*Star*Halo, Libertine, Monster Joe Coffee (who made the Wrestling with Pop Culture and ATLRetro T-shirts, which will also be included as prizes) and many more.
The event is hosted by Blast-Off Burlesque, whose members will be on hand to hand out auction prizes and provide other costumed entertainment. Prizes will also be awarded in the '80s costume contest and Valley Girl accent contest. And the whole event will be emceed by The Pop Culture King himself, Jon Waterhouse. Tickets are $15 with all proceeds going to the Plaza Foundation.
Saturday sees the return of the Silver Scream SpookShow, this time with a screening of Godzilla vs. Megalon. Professor Morte and his creepy crew of characters, go-go dancers and other monstrous fun will introduce the movie with the vile variety show they've become known for. Kids ages 12 and younger get in free to the 1 p.m. matinee, with an additional show at 10 p.m. As one of the Plaza's marquee events in recent years, the SpookShow is the perfect followup to the previous days' philanthropic festivities.
For more information, go to www.plazaatlanta.com.