For the past few years, Professor Morte has been the "ghost host with the most" at the Plaza Theatre's Silver Scream SpookShow, where he puts on a classic horror show with go-go dancers, screenings (or as he would say, "screamings") of retro horror films and appearances by a cast of kooky characters. Last October, he took his monsters to the Atlanta Zombie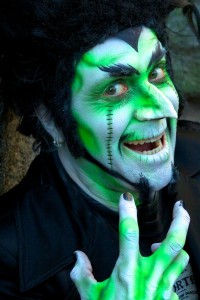 Apocalypse to entertain the lines of people waiting to tour the facilities of the controversial Centers for Disease Development with the debut of Monstrosity Championship Wrestling. Little has been heard from MCW since those two shows, but Morte is ready to unleash the monsters again to help Wrestling with Pop Culture celebrate its first anniversary. As he plots this ultimate monster battle, he steps away from his lab to talk to Wrestling with Pop Culture about MCW's return.
Hello again, Professor Morte.
Yes, it's Professor Morte alive in the undead flesh!
As we've discussed on Georgia Wrestling Now over the past few weeks, Monstrosity Championship Wrestling debuted last October at the Atlanta Zombie Apocalypse and the Wrestling with Pop Culture Anniversary Party will be the first show you've done since then.
It's the first indoor show for Monstrosity Championship Wrestling, so we don't have to worry about lightning strikes.
Well lightning might help with some of the monsters.
Yeah. With some of the monsters we might have to bring the Tesla coils out there to jump start these guys.
A lot of people  may not have seen those shows in October…
Well shame on them! It was the greatest wrestling show that was ever put on. We had Frankenstein's monster fighting the Wolf Man, we had a big all out zombie battle and it was pretty fangtastic. Those guys were really ripping each other's arms off and beating each other over the head with them and stuff.
Which monsters are on the card for tomorrow night's show?
It's a big surprise to everybody involved. We're going to figure out tonight exactly what is going on tomorrow and which monsters I've got to let out of the cage and which monsters I've got to kind of spruce up in the lab so they're presentable. And we'll figure out what we're going to do about some of these Platinum Championship Wrestling guys showing up and wanting to cause trouble at the MCW show.
Right. Of course Stephen Platinum very politely issued that challenge a few weeks ago on Georgia Wrestling Now. PCW will be coming over after the Atlanta Film Festival screening of The Booker and I guess they want to mix it up with the monsters a little bit.
Yes. It should be very interesting. I've been looking forward to this for about ten years now, so I'm really excited to finally be bringing Monstrosity Championship Wrestling to the Masquerade.
And I'm excited to have it be part of the Wrestling with Pop Culture Anniversary Party.
Great. And congratulations on your first year and all the things you've been doing. This show you're putting on is like a variety show of great things that go on in Atlanta. You really pulled a lot of stuff together. You've got my favorite chocolate company with those spooky chocolates from Chocolate F/X and a lot of fun stuff going on at this show. You've really worked hard and the sponsors are fangtastic, so I'm looking forward to having an all around good time. Even if you don't like wrestling, there are monsters! That's reason enough to come to this show. You've got rock 'n' roll, you've got all kinds of stuff.
Even though it's an all ages show, Neon Armour will also be doing body painting. So there might even be some boobies.
Oh, boobies! Well, children love boobies. And I love children. They're delicious. I mean delightful. Children are delightful. So if they want to bring some children I'm sure the children will be very entertained with boobies, too.
With MCW, PCW, the bands, body painting and everything else, there's sure to be a lot of stimulation at this show.
Over stimulation for some people. I'm really looking forward to it. We're going to put on one yell of a show tomorrow night. I'm looking forward to scaring the yell out of you and the rest of the people that are attending so they can see just what is going to happen tomorrow night at the Masquerade! Muah ha ha!