After starring alongside an ensemble of action heroes, martial artists and pro wrestlers such as "Stone Cold" Steve Austin, Mickey Rourke, Sylvester Stallone, Jet Li and Terry Crews in 2010′s The Expendables, wrestling legend and Ultimate Fighting Championship Hall of Famer Randy Couture returns to the big screen in the upcoming The Expendables 2. But before you see him kicking ass in theaters with Jason Statham, Chuck Norris, Dolph Lundgren, Arnold Schwarzenegger, Liam Hemsworth, Jean-Claude Van Damme and others on Aug. 17, Couture leads his own battle in the skies as he stars in the Blu-ray/DVD release Hijacked.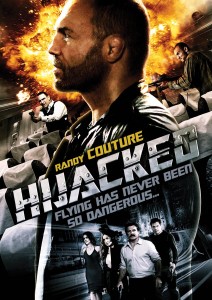 When a series of suspicious events leaves his partner (Vinnie Jones) gunned down after a ritzy party, government agent Paul Ross (Couture) realizes Bruce Lieb (Craig Fairbrass), the billionaire who threw the party, is the target of a terrorist plot. Between losing his partner and being unable to patch things up with his ex-fiancé Olivia (Tiffany Dupont), Couture and his cauliflower ears have nothing to lose. So he decides to save the day by boarding Lieb's personal plane to provide security against the thugs planning to hijack the plane and parachute out with a bunch of money.
In a somewhat ironic twist of fate, Olivia just got a job with Lieb and is also on the plane. So while Ross is trying to protect the plane's passengers from the terrorists, he has a more personal interest in making sure Olivia isn't harmed. As the hijackers and their inside conspirators carry out their plan, Ross leads the other hostages in a revolt to regain control of the situation. But these hijackers are ruthless and begin taking out the passengers, beginning with Lieb's wife (Gina Philips) until they get the ransom they've demanded.
Ultimately (pun intended), all of this plot development is used to set up shoot-outs and fight scenes. And as you might expect from a multiple-time UFC champion, the fights are impressively executed as Couture takes out the bad guys one at a time. And the gun battles are equally enjoyable, with exaggerated blood spatter that offers some additional drama (yet is probably the result of the  film's low budget). Hijacked is about as predictable as the action movies Couture's Expendables co-stars made in the '80s and '90s. But it does offer a bit of a twist at the end just to make sure you've been paying attention to more than just the action. And as action movies go, Hijacked is exactly what you might expect from a straight-to-DVD action movie starring a guy who helped propel UFC into the mainstream. Which is to say, Hijacked is just the kind of escapism you might be looking for on a lazy Sunday afternoon on the couch. And Couture proves that he can carry a B-level movie such as this one just as well as he can work with an ensemble of more experienced actors on the bigger screen.
Hijacked. Directed by Brandon Nutt. Starring Randy Couture, Dominic Purcell, Tiffany Dupont, Holt McCallany, Gina Philips and Craig Fairbrass. Rated R. www.anchorbayent.com.
Wrestling with Pop Culture has three Blu-ray/DVD combo pack copies of Hijacked to give away! Just tell us what your favorite Randy Couture moment is (in UFC, on film, whatever) and why it's so memorable to be entered into the drawing. The deadline is 5 p.m. Aug. 17, so just comment below to be entered into the contest.