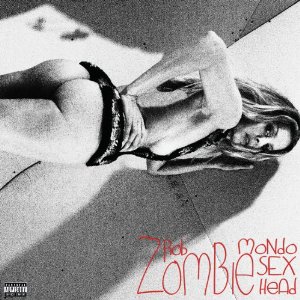 Whether he's making movies or music, Rob Zombie has never shied away from the fact that he borrows heavily from the art that inspired his own creativity. From his own visceral take on the Halloween film franchise to remix albums and EPs such as 1992′s Nightcrawlers: The KMFDM Remixes, 1996′s Supersexy Swingin' Sounds and 1999′s American Made Music to Strip By that let DJs, industrial bands and electronica acts give their own take on his solo work and White Zombie catalogue, reinvention is something Zombie has celebrated for most of his career. And with Mondo Sex Head, Zombie revisits that idea as a variety of today's DJs and electro acts give new life to songs dating as far back as the '90s.
The first single, "Thunderkiss '65 (J Devil Number of the Beast Remix)," is also the debut release by J Devil, the dark dubstep project of Korn's Jonathan Davis. Unlike many of the songs on Mondo Sex Head, which stray so far from the original songs that they can hardly be considered remixes so much as entirely new songs, J Devil's "Thunderkiss '65″ reawakens the original track with heavy electro charges. If J Devil's sound is too dubstep for your tastes, then you'll hate Document One's take on "Let It All Bleed Out," which features snippets of Zombie's vocals and John 5′s guitar alongside lots of warble and deep bass. And Davis isn't the only rocker-turned-DJ to reinterpret a Zombie song  as Chino Moreno's home away from the Deftones ††† (pronounced "Crosses") gives "Dragula" a darkly chilled-out vibe.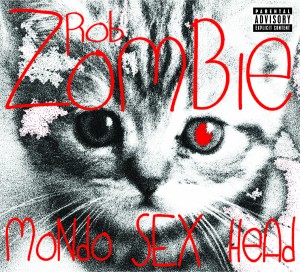 Aside from the J Devil and Document One tracks, Mondo Sex Head eschews dupstep's current popularity for a variety of other electronica genres. Zombie seems to have a particular penchant for Ki:Theory, who seems to have his own penchant for Zombie's more dementedly sexy songs given his remix choices: "Foxy Foxy" and "Pussy Liquor." Photek takes "Living Dead Girl" to a cerebrally chilled-out place that she's probably never visited before. And Big Black Delta's "More Human Than Human" is more Big Black Delta than White Zombie.
All that is to be expected when it comes to remix projects, so I'm not complaining about Zombie's willingness to showcase other artists while also reminding listeners of his previous output. But it's not until Das Kapital's take on "Lords of Salem" that it actually starts to sound like a Rob Zombie remix project rather than a collection of songs that sample Zombie's work. Kapital's cut-and-paste onslaught gives way to Drumcorps' aggressively glitchy groove on "Never Gonna Stop." Kraddy's dark-and-dirty sound further complements "Superbeast" while the Bloody Beetroots make "Burn" a raging party anthem. The deconstruction of "Devil's Hole Girls" by Swedish composer Tobias Enhus is appropriately cinematic, especially with the addition of the Jane Antonia Cornish String Quarter. And the more industrial take on "Mars Needs Women" by producer Griffin Boice brings Mondo Sex Head back down to Earth for an appropriately settling conclusion.
For more information, go to www.robzombie.com.