By Jonathan Williams
These days most of us have the convenience of Facebook and other such resources that allow us to connect and communicate with people all over the world for pretty much any reason. But for black travelers in 1950s America, The Green Book was the best way to find out where it was safe to go while road tripping across the country.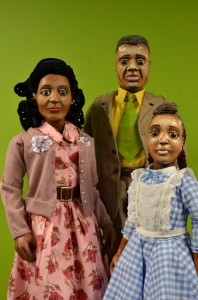 Based on the book of the same name by Atlanta-based author Calvin Alexander Ramsey, the Center for Puppetry Arts' production of Ruth and the Green Book tackles this tough topic in a refreshingly lighthearted fashion that includes live actors, puppetry, imaginative props and choreographed musical numbers. Playing through Feb. 26, the story begins with Ruth (played by Tara Lake) as an adult recalling the eye-opening trip from Chicago to Alabama she took with her family as a child. When she flashes back to her past, the actors become puppeteers and the audience is transported back to a time when Jim Crow laws made segregation a requirement in the South.
Ruth's family had never had to deal with such things in Chicago, where her dad had a good job that made it possible to live comfortably, eat well and even drive around in a nice new car. But when she and her family head south to visit relatives, they encounter a racist gas station attendant, a motel that turns them away to sleep in their car (which makes for spooky scene fueled by Ruth's imagination and the sounds she hears in the woods at night) and more and more places with signs that read "Whites Only." With the innocence of an 8-year-old, Ruth struggles to understand why people can be treated in such a way simply because they are black. But once a black gas station owner introduced them to The Green Book, they are able to finish their journey under more favorable conditions (even if it means going way off route to support more tolerant businesses).
Despite the oppression of the times, Ruth and the Green Book never gets oppressive or preachy. Instead, it manages to capture the family's determination in an uplifting way through the use of humor and music (thanks to composer/actress S. Renee Clark) that even includes a somewhat hokey rap number (probably to help younger audience members connect a little better to the otherwise unfamiliar times).
Like the book it's based on, Ruth and the Green Book is an example of the triumph of a family (a microcosm of an entire race) overcoming odds that are frustrating, to say the least. The fact that the story is told mostly through the use of puppets just makes it that much more entertaining and a little easier to digest.
For more information, go to www.puppet.org.