To Zema Ion, image seems to be everything. His arrogance, talent and incessant spraying of his wildly-styled hair make it easy for fans to hate Ion each time he steps into a Total Nonstop Action Wrestling ring. But his acrobatic style and willingness to take risks in order to win match make it a little easier for him to boast and gloat. Now that he's the company's X Division Champion, many fans watch not only in hopes of seeing him lose his title, but also to see what high-flying maneuver he's going to pull off this time. Having proven his abilities in the United States, Japan and Mexico prior to joining the TNA roster last summer, the high-fying Filipino has successfully defended his title against fan favorite Kenny King and welcomes his next challenger. With three Impact Wrestling World Tour stops in Georgia this week, followed by the No Surrender pay-per-view on Sunday, Ion will have four more chances to prove his worth as champion. And to hear him talk, holding on to that title for several more months won't be a problem at all. As he prepares for these matches, Ion talks to Wrestling with Pop Culture about his title, his hair and how Southern wrestling fans are likely to receive him.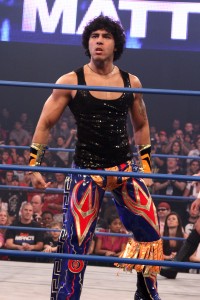 Since winning the X Division Championship at Destination X back in July, you've successfully defended the title twice against Kenny King. With No Surrender this Sunday, do you know who your next challenger will be?
Word on the street is that my challenger is actually Sonjay Dutt. If he wants to show up in Georgia this weekend, I have no problem giving him a shot. I hear that he's also my opponent on the pay-per-view this Sunday at No Surrender, so Sonjay Dutt is next in line and hopefully he doesn't win it back from me.
TNA is running three shows in Georgia this week leading into Sunday's pay-per-view. Will you be at all three of these shows?
Yes, sir. I will be in Dalton, Ga. tonight at the Dalton Trade Center, Atlanta Friday night at the Tabernacle and Saturday in Gainesville.
Prior to joining TNA, you've mostly wrestled in the Northeast, as well as Japan and Mexico. Those styles are very different from what Southern wrestling fans are used to. How do you think your style of wrestling might be received by these Southern audiences this weekend?
If the Southern crowds like some high-flying, lucha libre style wrestling, which I'm sure they probably do, then I think I'll fit right in. Southern crowds? I already know what I'm getting when I go down there – they're going to hate me. I  mean, I'm effeminate, I have nice hair, I spray my hair every two minutes, I'm not exactly the most manly type of man in their eyes. I imagine I will not get a warm reception once I arrive, and that's just fine because I wouldn't have it any other way.
You still wrestle on the independent circuit as well, and have held a few titles prior to winning the X Division Championship. Do you currently hold any other titles in other promotions?
I currently do not hold any titles on the independent scene, but I'm sure sooner or later I'll have a chance to regain one. Then I'll be a champion in not just TNA, but in smaller promotions.
Before you won the X Division title, Austin Aries was on a mission to elevate the status of that title to the more meaningful place it once was. Now that you're the champion, what are your plans with the title?
Well, I've already proven to be the prettiest X Division Champion there ever was and I'm on my way to being the most dangerous as well. I think those are two pretty good accolades to have as the X Division Champion. As far as other goals, Austin Aries currently has the record as the longest reigning X Division Champion of all time. So naturally I want to beat that record and I want to be the longest reigning X Division Champion ever. I'd say I'm well on my way. I think he had it somewhere near one year, so I've got at least seven more months to go.
You challenged Aries for the X Division title several times before he opted to go for the TNA World Heavyweight Championship at Destination X. Would you like to eventually parlay your X Division Championship into a World Championship the way he did?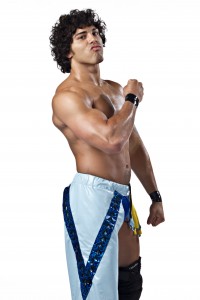 Absolutely! That's the great thing about being the X Division Champion is at Destination X next year, once again the X Division Champion will automatically receive a World Heavyweight title shot. So if I do make my goals come true and become the longest reigning X Division Champion, that should put me in line for a World title shot next July.
The same night you won your X Division title, Jesse Sorensen made his first on-camera appearance in TNA since suffering a spinal injury in February at Against All Odds. The implication was that you had intentionally injured him, and you didn't exactly deny those accusations. I think a lot of people were surprised by that entire exchange since it previously seemed like the injury was an accident. What do you anticipate from Sorensen upon his return to the ring?
Well, I was a threat to Jesse Sorensen before he broke his neck and if he wants to actually seriously come back to professional wrestling after breaking his neck, then get back in the ring with me, be my guest. That's on him, but I'll be waiting for his return, that's for sure.
For more information, go to www.impactwrestling.com.
Wrestling with Pop Culture has three pairs of tickets to this week's Impact Wrestling World Tour stops in Georgia to give away. The first three people to comment below with the name of your favorite X Division Champion of all time and why will win a pair of tickets to the show of your choosing. Just specify if you'd like tickets to the Dalton, Atlanta or Gainesville show and your tickets will be at will call.