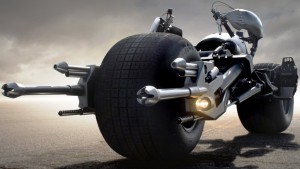 Unfortunately we still have to wait a few weeks before we see Batman take on Bane and Catwoman in The Dark Knight Rises. But in the meantime you can see the intricate details of the actual vehicles you've seen in Batman Begins and The Dark Knight as they visit cities across the country on the Tumbler Tour. And given the technologically-advanced nature of the Tumbler (the tank-like vehicle commonly known to fans as the Batmobile) and the Bat-Pod (the Tumbler's motorcycle-like escape pod), it takes a special person to operate these vehicles. Wrestling with Pop Culture caught up with Jim Johnson, the transportation manager for Wayne Enterprises, on a recent tour stop. But as you might expect from someone who works for a reclusive billionaire like Bruce Wayne, Johnson wasn't willing to reveal too much about the vehicles, the new movie or any possible connections between Bruce Wayne and Batman.
As the only authorized driver of the Tumbler and the Bat-Pod on the Tumbler Tour, how did you become qualified for such a job?
I work in the transportation department of Wayne Enterprises. The vehicles were built by Wayne Enterprises and Batman uses them for fighting crime.
That implies that there may be a connection between Batman and Bruce Wayne, and there's already some speculation as to who Batman is. Do you have any thoughts on that?
Nobody knows who Batman is.
These vehicles appear to be military in nature, which means operating them probably isn't very simple. What was your background prior to being hired by Wayne Enterprises that led to you being chosen to operate these vehicles?
I've always been in the transportation field. I drive everything and we're just taking them on tour to promote the new movie.
I understand the original intended use of the Tumbler was for bridging for military purposes…
Yeah, it was originally designed for the military to bridge open areas and to cross large distances. It'll jump about four feet high.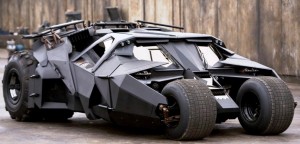 As we saw in The Dark Knight, the Bat-Pod was originally inside the Tumbler for use as an escape pod. Since they are being displayed as individual vehicles, does that mean we will see both of them used separately in The Dark Knight Rises?
We just want to show them both on the Tumbler Tour. He uses the Bat-Pod to escape from the Tumbler when he needs to. It's more agile for moving around the city. But I have not seen anything about the new movie and I'm very limited about what I'm allowed to say.
How often do you actually talk to Bruce Wayne? What is he like?
I've never talked to him. Wayne Enterprises is a big company and he's a very busy man.
For more information, go to www.tumblertour.com.