When the Undertaker's WrestleMania streak began, I doubt anyone could have predicted just how long it would last. At the time, his impressive dominance over the legendary Jimmy "Superfly" Snuka at WrestleMania VII served to further establish the Deadman's mystique as a monster who, it seemed, could feel no pain. But as his career continued and he racked up more and more victories over some of wrestling's top talents on wrestling's grandest stage, it became apparent after a few years that something special was shaping up in the career of the Deadman.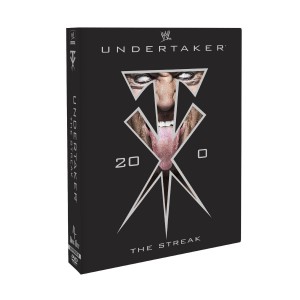 After defeating Triple H two years in a row, the Undertaker's WrestleMania streak stands at 20-0, and has become just as (if not more) important as any title match or heated rivalry that might take place each year. And just one day after celebrating a company milestone of 1000 episodes of Raw, WWE chronicles the Undertaker's achievement with Undertaker – The Streak, a four-disc set of all 20 of his WrestleMania matches. As far as WWE releases go, this one is rather sparse on the bonuses. Aside from a somewhat brief documentary (it runs fewer than 40 minutes) that recaps the streak one opponent at a time, the other three discs consist of nothing but the matches. No background on what transpired prior to these epic confrontations or previous encounters between the Undertaker and his opponents to put things into context. Just the matches themselves.
But when you're talking about something as monumental as never losing at the industry's biggest show, you don't necessarily need a lot of additional hoopla to piledrive that point home. In fact, scaling things down to just the WrestleMania encounters themselves helps illustrate the odds that the Undertaker has had to overcome to get to 20-0.
Though his first two WrestleMania opponents (Snuka and Jake "The Snake" Roberts) were accomplished adversaries, it wasn't until WrestleMania IX that 'Taker faced anyone that matched his own intimidating abilities in the Giant González, a towering monster standing taller than 7 feet and wearing a Sasquatch-like bodysuit airbrushed with muscles and hair. Though he technically won the match by disqualification due to the use of ether to knock him, the Undertaker proved that he's able to overcome even that obstacle when he re-emerged from the back to stand victorious in the ring.
From there the Undertaker takes on one giant after another, with stipulations such as the Hell in a Cell cage being introduced at WrestleMania XV against the Big Boss Man. But after all the pageantry of his most recent WrestleMania victories against Shawn Michaels and Triple H, it's easy to forget just how impressive some of these earlier WrestleMania encounters were, for both the Undertaker and his opponents.
Kevin Nash, for example, has always relied on his size to overcome anyone that stands in front of him. But when he (as Diesel) squared off against 'Taker at WrestleMania XII, he faced someone who matched him physically. But Diesel seemed unfazed, maintaining his arrogance despite 'Taker's seemingly supernatural abilities, and, at times, getting the better of the Deadman. Though two big guys squaring off can often be cumbersome, 'Taker really brought out the best in Diesel before putting him to rest like the four that came before him.
Other big men that have benefited from their WrestleMania losses to the Undertaker include Sycho Sid, Mark Henry (perhaps one of 'Taker's best opponents, in a casket match at WrestleMania XXII) and his brother Kane, the first to fall to 'Taker twice (at WrestleMania XIV and XX). But one of 'Taker's strongest qualities as a wrestler is his versatility. Whether he's grappling with smaller and leaner opponents like Ric Flair and Edge or taking on the Big Show and A-Train at the same time, 'Taker is able to adapt to any opponent and environment, which is why his matches have consistently stolen the show at many WrestleManias.
And unlike most athletes, the Undertaker gets better with age despite the abuse his body has taken in the ring for so many years. His later WrestleMania matches against Henry, Batista and Edge are some of the best of the entire streak, and there's little that can be said about his matches against Michaels at WrestleMania XXV and XXVI, and his subsequent matches against Triple H at this year's and last year's 'Manias, that hasn't already been said. (You can read what Matt Hankins had to say about the End of an Era match here.) But 'Taker's longevity and the weight that the streak now carries are a big part of what makes these last few matches so memorable. Whether it's the streak versus Michaels' career or the proverbial End of an Era that occurred when 'Taker and Triple H met inside the Hell in a Cell at WrestleMania XXVIII, the Undertaker's WrestleMania matches carry more and more meaning and symbolism with each passing year.
Another thing we see, both in the documentary and with each successive match, is the evolution of the Undertaker's persona through the years. From the cartoonish ghoul who drew power from the mystical urn carried by Paul Bearer to the motorcycle-riding American Badass to the Mohawked monster we've seen more recently, the Undertaker has always been an imposing force whether he's relying on supernatural abilities or pure physicality. But as age takes its toll on the Deadman, one can't help but wonder if The Streak provides some foreshadowy closure to one of wrestling's most celebrated careers or if the streak might continue for another few years.
For more information, go to www.wweshop.com.