It's been more than a year since Danish band Volbeat released its fourth album Beyond Hell/Above Heaven. And since then the single "A Warrior's Call" has become an anthem for fighters and wrestlers, as well as rock fans looking for something to pump their fists to. Written specifically for Danish boxer Mikkel Kessler, "A Warrior's Call" is just one of several songs that blend the punk rock stylings of the Misfits and the rockabilly swagger of Johnny Cash and Social Distortion with thrash metal riffs and hardcore sing-alongs. After touring with Metallica, then opening for Megadeth, Motörhead and Lacuna Coil on the Gigantour earlier this year, the band set out on a United States festival tour for most of last month. As Volbeat prepares for a summer headlining tour of North America with support from Hellyeah and Iced Earth beginning June 18, drummer Jon Larsen takes a moment to talk to Wrestling with Pop Culture about "A Warrior's Call," album themes and the band's creative process.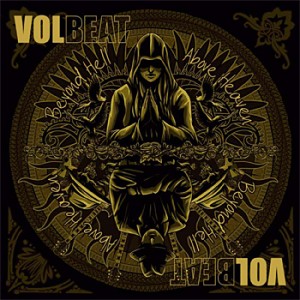 This album has been your most successful one yet, at least here in North America. That's largely because of the first single "A Warrior's Call," which is about a boxer. Did you know a lot of independent wrestlers also use that as their entrance music?
We are quite familiar with those stories, actually. We also know there is a hockey team, maybe, that is using it. It seems like a lot of people in the world of sports have really picked up on that song and use it as an intro song or whatever, which is kind of amusing and fun for us. The song was written specifically for a Danish boxer and that's basically what it was. He had been using one of our older songs from the Guitar Gangsters album for his intro when he walked into the ring. We got to know him and kind of just said, "Why don't you have some decent music when you enter the arena?" And he said, "Well, why don't you write a song for me?" So that's what Michael [Poulsen, singer/guitarist] did. He said, "Sure. That's a challenge. I'll do that." So it was written specifically for him, but it's interesting that a lot of independent wrestlers, hockey teams, soccer teams or whatever started to use that song. But, hey, it's all good. We aren't complaining.
Beyond Heaven/Above Heaven picks up thematically where Guitar Gangsters & Cadillac Blood left off. For those who are just discovering Volbeat through the newer album, what is the connection between these two albums?
Some of the songs on the Guitar Gangsters album were combined into a story. I'm not really that familiar with the story either. I know that Michael got the idea after watching an old gangster movie on TCM and didn't finish the movie because he was doing something else. So he started wondering what actually happened during that movie, what happened to that guy. So that's where he picked up the story and made it into his own story. There were seven songs on the Guitar Gangsters album that were combined into this story and on the new album there are three or four songs that continue the story.
He obviously writes the lyrics and comes up with the overall concepts, but how much input do you have as the drummer when it comes to writing songs and albums?
It varies from time to time. Sometimes Michael will have a full song ready when we meet up in the rehearsal room and he will say, "Try to play like this" or "Try to do something like this." Sometimes he doesn't really have anything and we just start fooling around with a riff and all of a sudden it's like, "Whoops! We've got something there." Then he goes home and continues working on that. Of course, we all throw in any ideas we have and if he can use them, he will. But if it's too stupid, he won't use it. Most of the time, he and I will meet up at the rehearsal room before the other guys show up and start just pounding out ideas and riffs and beats and whatever and see what we can come up with.
You recently finished a string of festival shows and now you're heading out on your own headlining tour. How will the shows on this tour compare to the festival shows you've been playing?
We just did 15 festivals and seven headlining shows. A festival is what a festival is and headlining shows are actually sometimes more fun because we're in better control of everything. On this run we'll be hitting some shows on the West Coast, which we did not on the last run. We're going back to Canada, doing some shows on the West Coast and some East Coast shows, so we're going to be all over America on this run. We don't really change anything production-wise. It's not about a stage show for us; we are what we are and it's just basically amps, drums and guitars.
You are what you are, but your sound is an amalgamation of everything from metal to punk to rockabilly. Do those influences creep in from individual band members or do you all share similar interests in many rock genres?
We're four different people with four different musical tastes, so we just throw in everything we've got. Like you said, there's some metal in there, some punk in there, some rockabilly, some three-chord bar rock, there's everything. We just play the kind of music we like to play. We don't really think too much about what it is, it's just how we started. We didn't really think too much about if it's supposed to be this or that, we just said, "OK. We're going to do this. Does it work? Yeah, it works. Does this thing work? Yeah, it works." That's what we did in the beginning and that's what we're still doing, basically.
Given the appeal that "A Warrior's Call" has had with wrestlers, sports teams and the like, do you think Volbeat might continue writing music for specific wrestlers or other athletic entities in the future?
Right now, no. But never say, "Never." Who knows? If something interesting pops up, why not?
For more information, go to www.volbeat.dk.