Back in the '80s, The Guns fired off several rounds of angsty punk rock that, at the time, was an influential part of the Cleveland music scene. Founded by suburban teenagers Scott Eakin and Dave Araca, The Guns were drawn from a conceptual punk band known as The Dark to embrace a more aggressive hardcore sound. The duo was eventually joined by bassist Sean Saley and became a fixture on the Cleveland scene opening for the likes of Hüsker Dü, Agnostic Front and Black Flag. After Saley's family moved to Florida in 1984, The Guns played under a few different incarnations before its members moved on to other projects, with the band's final performance being in 1986. After becoming an award-winning tattoo artist, Araca died of a brain aneurism in 1994. In 2005, Eakin and Saley reconvened for a Guns reunion at the Cleveland's Screaming festival, with Saley moving to drums and Eakin's fiancé Karen Gortner on bass. This version of The Guns played once more the following year at Cleveland's Screaming, just months before Eakin had a fatal heart attack.
Both original Guns are now in the big holster in the sky, but that certainly doesn't mean there is a ban on these Guns. Having recorded some tracks in '84, as well as some new songs in '05, The Guns had a stockpile of ammunition just waiting to be discharged. And in true '80s punk rock fashion, Smog Veil Records has done just that with limited edition double vinyl LP retrospective simply called The Guns. And Saley, who currently plays drums for doom metal band Pentagram and D.C. hardcore band Teamster, is still happy to talk to Wrestling with Pop Culture about his days as an integral part of this underground icon.
First off, tell me a little bit more about this double vinyl release.
It's a retrospective of the band's entire existence, so there's stuff that's on there from about '82 until around '86 or so. It spans four or five years, the entire history of the band. The centerpiece is a 1984 recording that was intended at the time to be released as a full album, but never was. There's a couple of sessions on there that were professionally recorded, aside from the live cuts from a boombox and all that stuff. But all of this happened between 25 and 30 years ago.
Is there any significance to the timing of the release? Is this some sort of anniversary for the band or anything like that?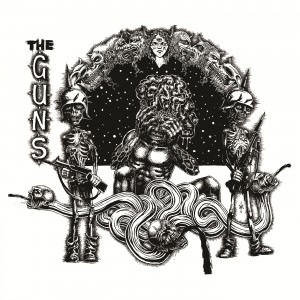 No, not really. This has been happening for a really long time now. When we recorded the album that is the centerpiece to this whole thing in '84, the reason it was never released was simply that we ran out of money. The guy who was going to put it out had a budget to record everything and press it onto vinyl. But we pretty much spent all his money just recording it. So it just never happened. But this has been on somebody's back burner for a good six or seven years. It was supposed to come out on a California label called Grand Theft Audio. Tom Dark was talking with the guy who ran that label for a really long time, but the whole thing just eventually fizzled out. So Tom caught up with Frank Mauceri from Smog Veil Records and Frank was used to releasing older material from various Cleveland bands. The two of them have been talking about it for a few years, but I don't really know how the seed germinated and someone said, "Let's do this now." So it's not a particular anniversary or anything like that.
You were part of the band for a large part of its existence…
Maybe about half of it. It originally started as two people, Scott and David. They were in another band together called The Dark with Scott's older brother Tom and Robert Griffin. Then they decided they wanted to play their own faster stuff with a more hardcore sound. So they did maybe four or five shows as a two piece for about a year or so. I ended up meeting those guys at a show in Cleveland and kind of wormed my way in, for lack of a better term. We were friends, we were hanging out and they had this band while I was playing drums in a couple of other bands and was OK on bass. So one day I just said, "You guys don't have a bass player. We hang out all the time anyway, so why don't we try to do this together?" That lasted for for close to two years, but during that time we played tons of shows between the middle of '83 and the beginning of '85. After I left, Bob Ries came in playing bass and singing some of the songs, basically taking the role I had had. Before I left, we got Scott Silverman in the band as another guitar player. But we only had a few rehearsals with him before I moved to Florida with my mother as a teenager.
That version of the band went on for about another year and a half or so before they broke up. So I was kind of in the middle of it, and it was sort of the heyday as far as shows and all that stuff. Later on, when you get into the sort of final lineup of the band, I think they probably became a better band at that point. They were super tight, everybody was learning to play their instruments better and there was definitely more of a metal influence towards the end. That was there when I was in the band, but by the end of it David had gotten an extra bass drum and suddenly every song had thundering double bass on it. So I think the final incarnation was probably really the best band. It's too bad there's not a proper representation of that lineup as far as a studio recording or anything like that. There's some live stuff on this album that's pretty lo-fi, but if you listen to it they're just so tight it's ridiculous.
There were pretty much three completely different lineups. You had the sloppy '77 teenage punk stuff, then when I came into it we started writing more traditional really fast hardcore songs that started morphing into metal. But by the end they were probably more of a metal band. But all three lineups were almost equal in length, so I was right in the middle.
There were some reunion shows a few years ago, but with the two founding members no longer with us do you think there's any possibility of seeing the surviving members getting together to perform in some capacity?
Unfortunately the original guys, Scott and Dave, have passed away. I stayed in touch with Dave when he was still around. During my last visit with him, I was supposed to get a tattoo from him, but it didn't end up happening. Then he was gone, so that's very unfortunate. One thing that's obviously bittersweet about all this is that those two guys started the band, they were the heart of it all the way through, and it's a terrible feeling to know they're not physically here to see this album's release. But I'm glad it's out and I'm certain they would be happy about it.
I didn't stay in touch with Scott as well. We had a reunion show, which was just me on drums and him playing guitars and singing, then we got his fiancee to play bass and it worked out really well. So he and I were in touch a little bit during his last couple of years and I'm really glad that happened because he was definitely one of my best friends growing up. I stay in touch with Bob through Facebook and stuff and I'm Facebook friends with Scott [Silverman], but I don't think I've ever seen him post anything. I probably talk to Tom Dark, Scott's older brother, more than anybody. After living in Florida briefly with my mom, I've lived in D.C. since I was 18 and played drums with Government Issue for a while. And I've lived here ever since.
Scott Silverman is still out there and he's been in a couple of well-known bands since those days. He's jammed with Brant Bjork from Fu Manchu with a band called Brant Bjork and The Bros. Bob also still plays, but he lives out in Seattle. So there aren't really any plans and I couldn't even imagine ever trying to get together in any capacity because David and Scott were The Guns. They started the band, they were the two constant members all the way through, they did the heart of the writing. So without those guys, I don't think there'd ever be any attempt at trying to play or anything.
It's good to see you're still actively performing with Pentagram these days. How does that compare to your time in The Guns?

On an underground level, Pentagram is a pretty well-known band that has been together in one incarnation or another since the early '70s. We toured Europe in June, did some one-off dates on the East Coast after that, then went back overseas last month to do some shows in the U.K., Norway, Sweden, Denmark and Germany.
I also play drums for a local D.C. hardcore band called Teamster, which is kind of along the same lines as The Guns, but maybe even a little faster, harder and more brutal. So I am still active in music, love it and get out there as much as I can. I'm definitely a lifer as far that goes, so I'll be doing it until I drop dead or can't do it anymore.