Alex Story clearly has a general disdain for humanity, as evidenced for almost two decades with his horror-inspired punk band Cancerslug, as well as his work with Misfits' guitarist Doyle. Whether it's serious or sarcastic is in the ear of the beholder, though it seems to lean more towards satire on the band's latest release Sassy for Satan. Debauchery has been a driving force for Cancerslug since its inception and that's still the case with what is rumored to be the band's final album.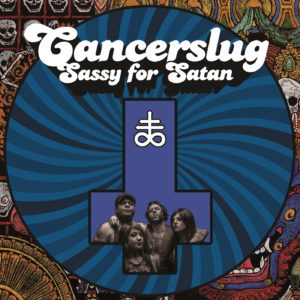 The opening tracks are a perfect example of the contrarian way Story prefers to get his ideas across. With a name like "Friends," the listener likely expects an uplifting song about those in the inner circle of this wolfman's pack. Instead, we get an angry blast of cynicism about those who are "here till all my money or drugs come to an end." The next track, entitled "Enemies," is, oddly enough, more about camaraderie with its refrain of "the enemy of my enemy is my friend" (though the song's only other lyrics involve forceful felatio and "fucking people up"). The next three songs, "Disappointment," "Born to Lose" and "Alone," are continued examples of Story's nihilistic outlook.
The rest of the album, however, takes a turn for the hilariously horrific. "I'll Be Your Butcher" has a nursery rhyme-like cadence that makes lines like "Pretty darling, why are you screaming? I haven't even cut you yet" a little less objectionable. "Hung Like Jesus" is lyrically just as blasphemous as it sounds, with an almost Motown-like groove that makes it a bit more palatable for the easily offended. And "Just a Hooker Away" is pure sex, drugs and rock 'n' roll, with an unhealthy dose of violence for good measure. As if the rest of Sassy for Satan isn't repulsive enough, "Rape Baby" is a repulsively uproarious tune about a girl who was rejected by her mother "because you had your daddy's eyes," but finally gains acceptance from a partner who thinks "it's cool you didn't die."
If Sassy for Satan truly is Story's swan song, this hound of hell is howling louder than ever. And with 2016 reportedly the last year the band will be performing, catching a Cancerslug show is more crucial than ever. By the way, the band's final performance at The Masquerade's original location is tonight at Culture Shock!