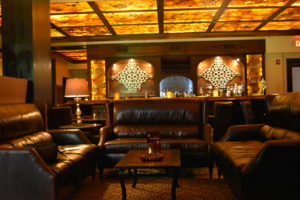 As was the case with the speakeasies of old, getting into the Atlanta's Prohibition was always a challenge. But if you were privileged enough to obtain the right code and find the vintage red phone booth, you were treated to an experience straight out of the Roaring '20s. At the end of last year, however, Prohibition's secret door (along with the doors to every other bar, restaurant and venue in Buckhead's Andrews Entertainment District) was permanently closed to make way for more development. After months of renovations to the 100-year-old Downtown building formerly occupied by the iconic Dailey's restaurant, the owners of Prohibition are opening a new speakeasy called the Red Phone Booth tonight, Aug. 26.
As was the case with its predecessor, you still have to dial a secret number on the rotary phone inside the phone booth to gain admittance to this new venue. (And no, Wrestling with Pop Culture isn't going to reveal that number because we don't want to end up sleeping with the fishes.) For those fortunate enough to get in, the anachronistic allure continues with extravagant decor such as Italian leather couches, a honey onyx bar top and I'm pretty sure that's the same backlit, hand-painted ceiling from Prohibition. The drinks aren't cheap (most are $12), and they might take a while to prepare. That's because each craft cocktail is made with the highest-quality liquors and requires things like reverse-osmosis ice that is chipped by hand, fresh-squeezed juices, hand-cut garnishes, an absinthe drip, and wood that is torched in the glass to create a smokey flavor. Rather than showing sporting events or other typical bar fare, the TV behind the bar plays a steady loop of silent black-and-white films.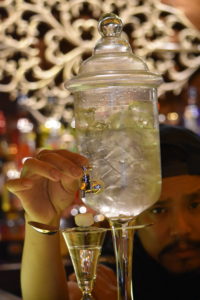 The same attention to detail went into the menu, with classy Italian offerings such as a shrimp martini (featuring plump jumbo shrimp), West Coast oysters, a fresh Caprese salad and beef carpaccio. When Amalfi Pizza opens upstairs in September, Red Phone Booth will also offer wood-fired pizzas baked in ovens imported from Italy. This cigar lounge also features a humidor with an extensive cigar selection. For those who don't enjoy cigar smoke, Red Phone Booth also has a powerful air filter to prevent you from taking any stuffy air home with you.
Red Phone Booth is likely to become a new landmark for locals and tourists alike. With Dragon Con (and numerous other events) taking over the Downtown area for Labor Day weekend, Red Phone Booth is likely to attract a unique crowd of cosplayers and steampunks looking for an appropriate setting for their period-appropriate attire.