It's inevitable that a lot of people are going to hate this new 21 Jump Street movie simply because it's such a departure from the late '80s/early '90s TV show on which it is based. And I'll admit I went into it with somewhat low expectations for that very same reason. But to my surprise and delight, 21 Jump Street is hilariously clever and entertaining, with enough nods to the original series to keep at least some fans happy.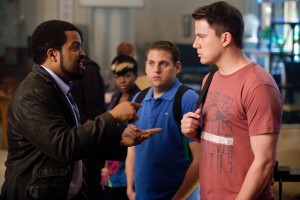 Of course with Jonah Hill starring, you know it's going to be amusing. But one of the major complaints about this take on 21 Jump Street is that, unlike the TV show, it's a comedy. But the fact that the movie openly acknowledges that it is rehashing an old idea and cashing in on an established franchise is exactly what makes it work. It's not a remake, but a sequel, with former high school nerd Morton Schmidt (Hill) and his hunkier counterpart Greg Jenko (Channing Tatum) reluctantly teaming up while training to become cops. After they prove to be incompetent officers, even as bicycle cops patrolling a park, the duo is reassigned to the secret Jump Street project, which still operates out of the abandoned church from the TV show.
Under the guidance of Ice Cube, who plays a stereotypically angry black police captain who, again, openly acknowledges that he is filling such a stereotypical role for comedic effect, Schmidt and Jenko are sent back to high school to find out who is dealing a lethal new drug called HFS (which stands for "Holy fucking shit" thanks to the hilariously hallucinogenic effect it has on the high schoolers consuming it). But a lot has changed since Schmidt and Jenko last walked high school halls, and a bit of role reversal takes place thanks to the fact that tree huggers, homosexuals and academic achievers are now the cool crowd and dumb jocks no longer rule the popularity hierarchy.
It doesn't take long for both of them (especially Schmidt) to get sucked back into the high school life and try to catch up the things they might have missed out on the first time around. As a result, the bumbling duo continues to screw up, eventually getting them expelled and making Capt. Cube angry enough to kick them off the case. Continuing to follow in the cop caper formula, it's after they are kicked off the force that they start to get big breaks in the case, giving them an opportunity to redeem themselves and prove that they can become good cops. But not without a few more mishaps, some silly self discovery and a couple of clever cameos that tie everything back in to the 21 Jump Street of old.
21 Jump Street is clearly not what fans of the TV show might be wanting or expecting. But since that would have been a difficult undertaking in itself, the film ultimately benefits from putting its own comical spin on things while simultaneously acknowledging its original audience.
21 Jump Street. Directed by Phil Lord and Chris Miller. Starring Jonah Hill, Channing Tatum, Ice Cube, Brie Larson, Dave Franco and Rob Riggle. Rated R. www.21jumpstreet-movie.com.