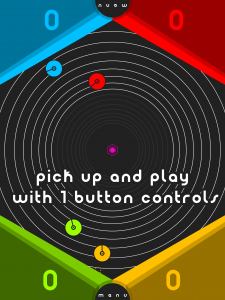 Centrifeud, developed by Secret Library, is a fun new pick-up-and-play party game for the Apple iPad. The premise is simple; two-to-four players guide primary colored rotating discs around the virtual game board, bouncing off the walls and each other while trying to collect pink pellets. Once a player has obtained 13 pellets, the round is over with the option of starting a new game or calling it quits. Along the way, there are opportunities to collect power-ups such as drunk mode, blind mode and turtle mode that either help you, hinder your opponents or both.
The most important factor about this game (as well as it's biggest selling point, in my estimation) is the ease of gameplay. Within a minute of playing, I was able to not only get the basic premise of the game, but also figure out strategies for winning. Its simplicity, combined with the beautiful visuals and kickass soundtrack, really make it stand out among other iPad apps.
Centrifeud is colorful, imaginative, universally accessible and basic enough for people of all ages. And with it only costing $1.99 to download, this game comes highly recommended.
For more information, go to www.secret-library.com.