Dave Brown is the type of cop that makes people hate cops. He's spent more than two decades playing fast and loose with the rules and abusing his authority, but is able to rationalize any of his actions as finding true justice. But in the wake of the Rampart scandal of the 1990s, in which dozens of officers were scrutinized for similar misconduct, Brown's attitude is about to get him into serious trouble.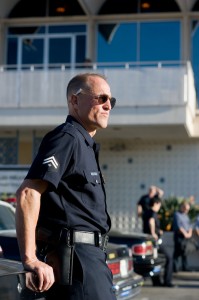 Stepping away from the comedic role he normally plays (his irreverent and endearing sarcasm is even present when he's playing a serial killer or other such dramatic role), Woody Harrelson portrays Brown in Rampart in much the same way Denzel Washington played the bad cop in Training Day. Brown is, in many ways, like a cross between Washington's Training Day persona and Michael Douglas' Falling Down character. Brown's ability to do heinous things while convincing himself he is justified in doing so is chillingly convincing thanks to Harrelson's ability to immerse himself in the role without letting many of his Harrelsonisms shine through as they usually do.
But Brown's dysfunctions aren't exclusive to his profession. He has two daughters by two women who happen to be sisters, making the children siblings and cousins. And they all live in the same house, which is yet another example of Brown's complexity. He's a chain-smoking womanizer who, when questioned about his racism by another cop played by Ice Cube, contradicts his obvious racism with the fact that he has had sex with black women. Yet he's charming enough that the mothers of his daughters (Anne Heche and Cynthia Nixon), for example, don't object to living as one big unhappy family under the same roof. It all makes sense in his mind and he can usually make those around him go along with his rationalizations as well.
After another car unexpectedly smashes into Brown's car while he's on patrol, he is caught on tape giving the other driver a relentless Rodney King-like beatdown. The '90s political landscape caused by Rampart isn't the only blemish on Brown's reputation as he is also known as "Date Rape" Dave after the death of serial sex offender was attributed to him a few years earlier (though never proven). All of this is used against him after the beating tape surfaces and the structured life Brown has manipulated for himself starts to unravel.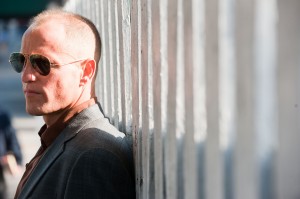 Things only get worse for him when his teenage daughter (Brie Larson) becomes increasingly defiant and his significant others tire of his negligence and kick him out of his own house. In Brown's mind, everyone is out to get him. But in reality, he has brought all of this on himself and everything just happens to be imploding simultaneously. Though he plots a pretty effective strategy to get himself out of his bigger dilemmas, it seems that everyone has finally wised up to his conniving ways and his plans continuously backfire.
Despite his many shortcomings, it is ultimately his stubbornness that proves to be his biggest flaw. Even as he watches his personal and professional lives crumble before his eyes, Brown refuses to turn his frustrations inward in order to find the true source of his problems. Once a hero in his own eyes, Brown makes himself a victim to help him cope with the reality of what is happening. Sadly, he will never see that he is a victim, but of his own actions, which is what makes him a convincingly flawed character rarely examined as thoroughly as is done in Rampart.
Rampart. Written and directed by Oren Moverman. Starring Woody Harrelson, Ned Beatty, Ben Foster, Anne Heche, Ice Cube, Cynthia Nixon, Sigourney Weaver, Robin Wright and Steve Buscemi. Rated R. www.rampartmovie.com.
Review by Jonathan Williams