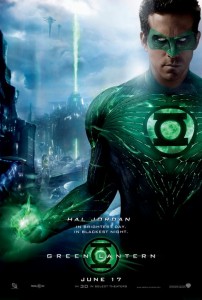 When it comes to the hierarchy of the
DC Universe
, the
Green Lantern Corps
has always been on the periphery of popularity behind the likes of
Superman
,
Batman
and
Wonder Woman
. But just as
Marvel
has elevated some of its B-level heroes to blockbuster status over the past few years, DC finally gives the most well-known bearer of the
Green Lantern
ring, Hal Jordan, the big screen treatment with
Green Lantern
(opening today).
While most of the other recent comic-to-screen translations have tried to legitimize the genre with accomplished directors, respectable actors, well-written scripts and believable takes on otherwise unbelievable source material, Green Lantern (for the most part) is pure CGI-filled escapism. Plot-wise, Green Lantern is surprisingly similar to that other recent superhero hit Thor, with Jordan (Ryan Reynolds) playing a cocky, arrogant and irresponsible test pilot whose Top Gun-like showboating causes problems for pretty much everyone around him. Despite being a seemingly undeserving wearer of the powerful Green Lantern ring, the ring chooses him after its previous wearer dies after battling the fear-mongering, planet-destroying entity known as Parallax (whose guttural growl sounds like the guy from monster truck commercials, thanks to veteran voice actor Clancy Brown).
Borrowing heavily from the original Superman movie (especially in scenes with Jordan and his love interest Carol Ferris, played by Blake Lively) and Star Wars (with the Green Lantern Corps home base of Oa looking like the Mos Eisley Cantina on steroids), Green Lantern has a hard time establishing an identity of its own. And though Reynolds certainly looks the part of the Jordan character previously seen in comics and cartoons, his portrayal of the character comes across a bit hokey, especially when he finally proves his worth as a Green Lantern by overcoming his own shortcomings and inner demons.
Green Lantern's supporting cast, which includes Angella Bassett, Tim Robbins, Geoffrey Rush and British actor Mark Strong as Sinestro, gives the film a little bit of acting clout. And Peter Sarsgaard, who starts off looking a little like Paul Giamatti and ends up looking more like the Elephant Man after being infected with Parallax's power, definitely turns in an impressive performance as the nerdy professor Hector Hammond. But for some reason, none of that ever totally makes up for the cliched plot and lack of character development.
Visually, however, Green Lantern has all the makings of a blockbuster summer spectacle, with plenty of glitzy battles that make their way from the deepest, darkest regions of outer space to Jordan's earthly hometown of Coast City and back out to the edge of the sun's gravitational pull. Director Martin Campbell is clearly going more for Michael Bay-like action and suspension of disbelief than Christopher Nolan-like seriousness, which reminds us that comic books (and their film adaptations) sometimes still need to be more about escapism than intellectualism.
Green Lantern. Directed by Martin Campbell. Starring Ryan Reynolds, Blake Lively, Peter Sarsgaard and Mark Strong. Rated PG-13. www.greenlanternmovie.warnerbros.com.
Review by Jonathan Williams