Originally scheduled for a January 2013 release, the final chapter in Green Day's new trilogy is out a month early. As was the case with ¡Uno! (read my review here) and ¡Dos! (read my review here), ¡Tré! shows the band simultaneously getting back to basics and exploring refreshingly different (at least for Green Day) sonic territories.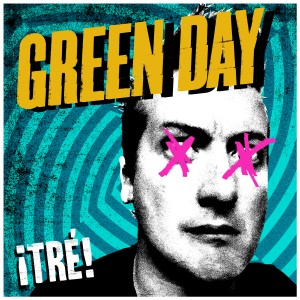 What sets ¡Tré! apart from its two predecessors is its simplicity. While ¡Uno! and ¡Dos! celebrated the pop predictability and punk pride that launched Green Day's career in the '90s, both albums were unintentionally ambitious. And I don't mean ambitious in the politically-charged rock opera sense that went along with American Idiot and 21st Century Breakdown. Quite the opposite, actually. Instead ¡Uno! and ¡Dos! felt like they took the band in different directions because the band was willing to just see what happened rather than creating a highly structured aural arrangement.
Where ¡Uno! favors the bands more rambunctious side and ¡Dos! leans towards Green Day's folk and garage rock influences, ¡Tré! is a more consistent record with slightly more fleshed-out songs and cleverly tongue-in-cheek lyricism. "Brutal Love," with its doo-wop-like composition, provides an apt prelude to the punk pacing that follows. It's easy to envision the members of the band snickering at their prank-like pregnant pause that follows the first few guitar strums of "8th Avenue Serenade," and "Drama Queen," with its chorus of "She's old enough to bleed now," is probably one of the funniest coming-of-age songs ever written (as is "X-Kid").
"Sex, Drugs & Violence" and "Amanda" are filled with Green Day's classic sarcasm and sneering rock 'n' roll attitude. "Dirty Rotten Bastard" is a rollicking drinking song not unlike the Irish punk of the Dropkick Murphys. And ¡Tré! ends with "The Forgotten," a rock ballad that brings the album full circle. Now that Green Day has finished this simplistically excessive undertaking, it will be interesting to see what the band has in store for us next. If it's anything like these three albums, it should be a lot of fun.