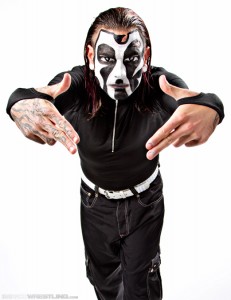 From his days wrestling alongside his brother Matt as the Hardy Boyz to his ascension to the top of the wrestling ladder (literally and figuratively), Jeff Hardy remains one of the most enigmatically talented men to ever step into the ring. And this Sunday at Lockdown, he faces one of his biggest challenges to date as he defends his Total Nonstop Action World Heavyweight Championship against Bully Ray inside a steel cage. Having recently re-signed with TNA, Hardy hopes to retain his title and continue to be the face of the company as TNA takes Impact Wrestling live on the road beginning next Thursday. As he prepares for this match, as well as the positive changes happening within TNA, Hardy takes a moment to talk to Wrestling with Pop Culture about staying with TNA, getting older and his burgeoning music career.
At Lockdown you defend the TNA title against Bully Ray inside a steel cage. As a veteran, how do prepare for a cage match now in comparison to when you were younger and took a lot more risks in order to make a name for yourself?
My psychology is pretty much the same. I'm not really limited, but I try to work smarter now. I'm excited, man, because it's a challenge. I've had so many great cage matches and ladder matches, so its another challenge for me to top myself. I'm a little more afraid to try big things now [because I have a 2-year-old daughter], but I'm still the same Jeff Hardy.
Now that you're a little older, is it tougher to recover from some of the things you do in the ring?
Yeah, it's way tougher now, just being older. But I'm taking extremely good care of myself. I see a chiropractor three days a week, I try to get massages when I can, I ice every part of my body that's hurting after every match and I work out more than I ever have.
You and Bully have such history going back more than a decade and now you find yourselves going against each other in a pay-per-view main event. How would you say you've both grown as performers and what has it been like growing into the stars you've become today?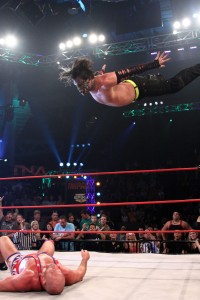 It's really cool thinking about those TLC matches many years ago between the Dudley Boyz and the Hardy Boyz. To see those old matches and now to see TNA in full effect, the way Jeff Hardy looks, the way Bully Ray looks – he's possibly in the greatest shape of his life – we've both reinvented ourselves over the years. It's so exciting to be headlining such a huge pay-per-view this Sunday and just still being able to do what we do. It's really something to be proud of and I can't wait to see what happens on Sunday.
What do you think you'll do differently in this match than what you've done in the past against someone who knows you better than anyone else in TNA?
What's going to be different is the unknown effect of any cage match, especially with my mentality. One of my favorite cage matches of all time was against Kurt Angle last year and even coming close to topping that this year is going to be a challenge. But I'm not going to do anything differently unless I have to. I'm going to go out there and just give it my all like I always do.
Given that this is a cage match, do you think that gives an advantage over Bully Ray?
I think so, yeah. Bully's good with tables, ladders and chairs, but I think I do have the advantage in the cage.
What are some of your favorite moments from your time tagging with your brother Matt?
As a team, there are so many amazing memories. But one of my favorite memories of Matt is when we finally got to wrestle each other at WrestleMania. The finish to that match was one of my favorites of all time. The original Twist of Fate in a chair, that will last with me forever.
This Thursday is the first time Impact airs live outside the Impact Zone. What is it like for you looking back to see how the company has grown? Will it be hard for you to say goodbye to a venue that you did so much work in?
It's going to be a little heartfelt, but it's time to get out on the road. But I'm sure we'll be back in the Impact Zone for a reunion show or something.
TNA wrestlers have often said one of the things they like about TNA is the difference in the schedule. With TNA going on the road, you're going to be busier. Was that something you considered when you were recently in contract negotiations with TNA?
Being in TNA, there are those times where I get to be at home for a week straight. But March is crazy busy for me. I just like being the alternative, the other place to be and believe in. And 15 years from now, there's a chance it could reach those WWE heights. Time will tell.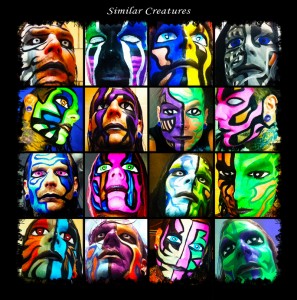 You recently released your first album, Similar Creatures, through TNA Knockout Music. How has that album been received so far? Do you foresee doing something similiar to what Chris Jericho is doing where you pursue wrestling and music at the same time?
I don't know how the first EP is doing. What I've been focused on as far as music goes is my band Peroxwhy?gen. We finished recording last week in Nashville and there are ten songs that are just on a different level as far as me as a singer, lyrically and vocally. I've grown so much and I'm really excited about that. Hopefully it will be out around July or August. As far as me wrestling and performing, it's going to be something unique. I'm not sure what that is yet, but you'll soon find out.
Given what you talked about earlier about taking fewer risks and having a harder time recovering, as well as your family, your musical project and other endeavors, how much longer do you see yourself wrestling?
I have no idea. It's always going to be in my blood and I think my body will tell me when I need to stop. Hopefully I'll be 45, 50 years old and still have a match every now and then. But I don't know. Time will tell and my body will tell me.