For the past 15 years, Rod Schmidt has had the honor of driving one of several Grave Digger trucks. But as Monster Jam heads to the Georgia Dome on Jan. 11, he'll be behind the wheel of the new Monster Mutt Rottweiler truck. Having previously competed in mud racing, rolling around in the dirt with this big Monster Mutt seems like an obvious choice for Schmidt. As he prepares to let this dog off its leash once again, Schmidt talks to Wrestling with Pop Culture about his new puppy.
Currently you're the driver of Monster Mutt Rottweiler. But you've previously been the driver of one of the legendary Grave Digger trucks. How many different Grave Diggers compete in a given season of Monster Jam?
We have seven actual Grave Digger trucks that tour the country year round.
Dennis Anderson seems to always be behind the wheel of Grave Digger in Atlanta. Will this be your first time competing in Atlanta?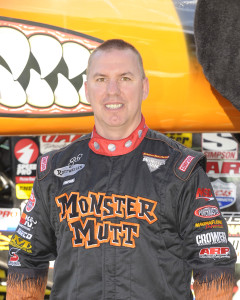 It will be the first time in a while for me. It will be my first time with Monster Mutt, but I was there last time with Grave Digger.
The Monster Mutt trucks are personal favorites of mine simply because it's funny to see those big floppy ears and tongue once the truck starts hitting those big jumps. If there is a serious monster truck, it's Grave Digger. But the Monster Mutts are definitely on the sillier side. What has that transition been like for you so far?
It's just become fun for me. There were so many politics and so much pressure with Grave Digger because they go last and you've got to top everybody and do your best. I'm bringing that to a whole new level with Monster Mutt. Now we can go out there and tear things up like I did with Grave Digger with no pressure. Now they've got to keep up with me instead of me keeping up with them.
Last weekend was the beginning of the season. Where did you compete and how did you do?
I was in Houston, Texas and I came in sixth in freestyle. I didn't compete in racing simply because it was the debut of the brand new Rottweiler. We changed the body up a little bit and made it a little more aggressive looking. It's a completely 3-D body and is just an absolutely cool looking piece.
Will other Monster Mutts be in Atlanta this weekend?
I don't now if Monster Mutt or Dalmatian will be there, but I will surely be there.
There's at least one other dog-themed truck there this weekend in Scooby-Doo. Does that create a natural rivalry or is every opponent equal in your eyes?
It's just another canine. But everybody's got to remember, the Rottweiler's the canine of carnage. So we're definitely going to get-r-done.
Based on your previous visits to Atlanta, what are you expectations this Saturday at the Georgia Dome?
I'm expecting some close, fast races. During freestyle there's going to be some huge jumps, big air and a lot of excitement. I'm so excited for it.
All Monster Jam drivers tend to have athletic backgrounds, but your experience in mud racing seems to be a perfect fit for driving a monster truck. How did your previous career prepare you for Monster Jam?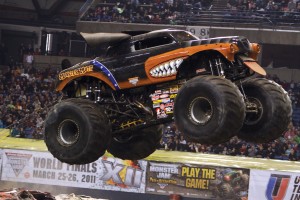 I'd like to say it helped out a lot. The more time you have behind the wheel, the better driver you're going to be. That goes for driving on the street or racing on a track. So  if I were going to give a kid advice on what to do, I'd say, "Get into some sort of racing. Dirt bikes, monster trucks, mini monsters, go-karts – anything, as long as you  have that time behind the wheel and you get your reactions right." That's what's going to help you evolve as a good driver, regardless of what your sport is.
Monster truck driving is interesting to me because the only practice you get is during actual competitions. So I'd imagine it's important to have some sort of preparation before getting behind the wheel of these trucks.
Yeah. Even the sport of mud racing has evolved. Now they're putting jumps in that as well. Back when I was racing it was a straight line for 600 feet as fast as you could go, wide open. Tom Meents came from the same side as I did; he was also a mud racer.