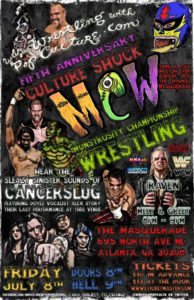 Wrestling with Pop Culture celebrates its fifth anniversary with Culture Shock, featuring the stars of Monstrosity Championship Wrestling and the horror punk stylings of Cancerslug! See MCW favorites such as Papa Marko, "The Wretched" Trever Aeon, the Chattanooga Wolfman, the Carolina Lizardman, Logan "Cyborg" Creed, the "Sun Tanned Demon" Drew Game, Uncle Sambo and MCW Underworld Champion "The Lethal Dose" Stryknyn as they return to Hell one last time at The Masquerade. Hear the sleazy sinister sounds of Cancerslug, featuring Doyle vocalist Alex Story, in what could be the band's last Atlanta performance ever. Dance the night away with Ascension's DJ Lechter after the main event.
Get there early for a special meet-and-greet with former Extreme Championship Wrestling World Heavyweight Champion, former National Wrestling Alliance World Heavyweight Champion and 27-time WWE Hardcore Champion Raven from 8 p.m.-9 p.m.
There will also be raffle prizes including tickets to upcoming Masquerade events such as The Wrecking Ball, as well as several great vendors including The Casket Creatures, Horror in Clay, Monster Joe Coffee, Doogah Music and Alternative Good Vapor.
Tickets are only $10 in advance and $13 at the door. Go to the Facebook invitation to let us know you're coming!