Anyone who has been listening to my Georgia Wrestling Now show over the past few months knows that Peachstate Wrestling Alliance has become one of the rowdiest wrestling promotions in the Southeast. And while most any PWA show is going to be an exciting one, certain shows definitely feature a few bigger names, with matches that have a bit more impact and repercussions.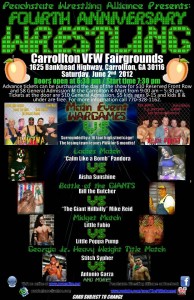 This Saturday, PWA celebrates its 100th show with a card that features wrestling veterans such as Buff Bagwell, Tommy "Wildfire" Rich, Bull Buchanan and "Action" Mike Jackson in what is sure to be an event to remember. But it was less than three months ago that Peachstate celebrated another milestone with a fourth anniversary show in which the very fate of the company was in question as Enoch Tsarion and his Merchants of Death had pushed PWA owner and commissioner Shane Noles to the limit in the prior months. Now available on DVD at PWA shows (incuding this Saturday's PWA 100), this fourth anniversary show pitted Team PWA (Noles, Jackson, Simon Sermon, Tommy Too Much and the returning Ultimate Dragon against Team MOD (Tsarion, Heritage Champion Cru Jones, Kris Knox and Tag Team Champions J-Rod and C.J. Awesome) in a WarGames cage match in which members of each team entered the cage in increments until all ten participants were in the cage.
With all the build up to this main even match, it was easy to forget some of the undercard matches that took place. But watching this DVD (which has the expected low production value of most indie wrestling releases, but is still impressively watchable with commentary by Robert Slay and ring announcer Tony Calhoun) is a reminder that this was an overall good wrestling show. The first match on the DVD pits rising Southeastern star John Skyler against the aptly named Stupid (with his equally idiotic sidekick Tweety in his corner). PWA regulars have become accustomed to seeing Stupid come to the ring clad in ripped-up jeans and what looks like something that came from the reject pile at the clown costume factory. Skyler, on the other hand, is a great athlete who has been making waves throughout the area, and catching the attention of the bigger wrestling promotions. So you'd think this would be a quick victory for Skyler, but Tweety is always there as a distraction to give Stupid a fighting chance. As a result, it's a solid opening match that allows both wrestlers to display their strengths in the ring.
PWA's anniversary card promised a good bit of variety, and the next match provides just that as the MOD's "Calm Like a Bomb" Pandora takes on her longtime rival Aisha Sunshine. No matter where these two women do battle, it's always a good match. And having worked with and against each other on so many occasions, this match is no different. Guilty by her association with Tsarion's faction, Pandora quickly draws the ire of this rambunctious crowd without ever relying on her cohorts for assistance. Pandora and Sunshine bring out the best in one another as they take turns having the offensive advantage. But with the moral support of Tsarion, Pandora is able to get a clean victory to continue this still-ongoing female rivalry.
Next up is Dusty MacWilliams, a throwback cowboy brawler whose crowd interactions are already comical enough. But things soon get even funnier as he finds out his opponent is Peachstate's favorite midget, Little Fabio. This match is basically like watching a cartoon as Fabio gets the better of his much larger opponent time and time again, which only frustrates MacWilliams all the more. It makes for an entertaining match and the crowd eats it up.
This match leads into another clash of styles as the masked Bad Company takes on the 386-pound Kentuckian "Big Country" Mike Reid. It's a short match in which Bad Company shows he's probably a better technical wrestler, but is simply unable to overcome the big hillbilly. And before we get to the main event, we're subjected to Antonio Garza and the Georgia Junior Heavyweight Champion Stitch Sypher. These are two high fliers – Garza with a more Mexican luchador style and Sypher with a more reckless Jeff Hardy approach – who should work well together. And they do at times, but a majority of this match just looks slightly off the mark with moments such as when Garza takes a dangerous dive from inside the ring onto Sypher, who is on the floor, where the two men take a hard bump onto the concrete. At one point early in the match, commentator Slay has trouble keeping up with all the missed moves and eventually says, "I'm just going to let these two go at it, folks." But it is an important title bout with a surprise run-in after the match that has caused a chain events that are still being dealt with at subsequent and upcoming PWA events.
Finally, we get to the WarGames main event, a match that will not only determine who gets ownership of PWA, but that also puts all the titles on the line. The MOD comes into the match with the Heritage and Tag Team titles, but if anyone from that team taps out, all the titles will come to Team PWA. Also, if the MOD loses it is banished from PWA for six months. Having already gotten the best of Noles and his allies at previous PWA events, the MOD has forced Noles to resort to extreme measures. Though they've had similar battles over the ownership of PWA in the past, the Ultimate Dragon and Noles somehow agree to join forces for the better of the company.
All 10 participants have been through some intense battles in the months leading up to this match, which only adds to the aggression that is seen throughout this main event. PWA hero Jackson does his signature old-school maneuver (the same top-rope-walking wrist lock popularized by the Undertaker) not only from the top rope, but also from the top of the cage, coming perilously close to plummeting to the floor on more than one occasion. When the numbers are against him, Jackson is thrown head-first into the cage by his opponents. The elder Jackson definitely takes a brutal beating before the odds are evened as his teammates gradually get to enter the ring. From there, it's a vicious and bloody battle with a big conclusion that leaves the audience jubilant. But as Noles should have expected, the Dragon proves to be out for himself yet again. But he's not the only one making demands after this match as we see the surprising return of Rick Michaels, the former Exotic Ones partner of Simon Sermon, who is upset by how easily he has been replaced during his absence. With a new partner (whose name is not revealed on this DVD), Michaels lays claim to the Exotic Ones name and the two teams will finally do battle this Saturday at PWA 100.
Overall, this anniversary show doe exactly what it set out to do. It features a variety of matches featuring women, a midget, big men, technical wrestlers, high fliers and title exchanges. The animosity that had been brewing between PWA and the MOD for several months finally comes to a busted-open head with an outcome that is inarguably conclusive. And the fans are left with both a sense of closure as well as intrigue from the new shocking developments still being played out.