One summer, CM Punk became an underdog champion whose fan support was divided between those who recognized his talent and those who saw him as a turncoat. Truth be told, Punk did betray many of his supporters when he proclaimed that he would hold the title hostage and take it with him when he left the company. Oddly enough, I'm not talking about the events leading into last year's Money in the Bank pay-per-view, where Punk defeated John Cena for the WWE Championship, only to walk out the front door of the arena with the belt, as his contract expired that same night. I'm actually referring to a very similar series of events that took place in 2005, when Punk became the Ring of Honor Champion, then proclaimed that he would take that title with him as he left the smaller promotion for WWE's grander stage.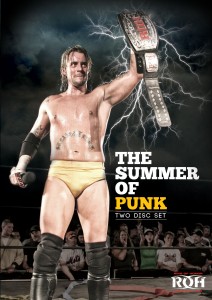 While WWE's highly anticipated CM Punk: Best in the World DVD set comes out Oct. 9, ROH chronicled Punk's 2005 departure months earlier with The Summer of Punk, a two-disc set featuring matches that took place during his final months with the company. And it's strange how similar that summer was to the summer of 2011, when Punk revealed that his WWE contract expired the same night he battled Cena for the WWE Championship (in Punk's hometown of Chicago, no less).
The Summer of Punk begins with Punk, a fan favorite, defeating Austin Aries (himself on his way out for his first stint with Total Nonstop Action Wrestling) for the ROH Championship. As his victory speech progresses, he gradually becomes more and more arrogant, stating that a microphone in his hand is like a pipe bomb, saying he is "the devil himself," referring to himself as the "greatest pro wrestler walking the Earth today," calling the fans his puppets and generally foreshadowing everything from the inception of his Straight Edge Society to his current WWE title reign.
The Summer of Punk includes some of the most memorable matches and promos from the summer of 2005, including the moment that he signs his WWE contract on the ROH title belt. But just as he has done over the past year or so in WWE, Punk is able to back up everything he says by defeating several of ROH's top wrestling talents, including Jay Lethal, Roderick Strong, Christopher Daniels and longtime ROH rival Samoa Joe. Though Punk had previously had some great matches with many of these people, he truly brings out the best in them with his threats of leaving with the title. But for those three months, he is unbeatable and it really does look like he will cripple ROH by taking its top prize to another wrestling promotion.
From his numerous battles with an unlikely savior in James Gibson (this DVD is almost as much about Gibson's quest for the title as it is about Punk's determination to retain it) to his infamous confrontations with Mick Foley (yet another instance of history repeating itself in recent weeks in WWE), Punk's ability to play with the emotions of his competitors and the ROH fans is phenomenal. But even after his tyrannically turbulent final months in ROH come to an end, as Punk wrestles his longtime friend Colt Cabana in his farewell match in the Chicago suburb of Chicago Ridge, he is visibly emotional as the fans chant his name and shower him with streamers (a common show of respect for ROH fans). And when the locker room empties and the ROH roster shows its respect to a man that helped elevate ROH to greater recognition, it's clear that The Summer of Punk is a bittersweet chapter in the story of a man whose potential in WWE has only become popularly apparent in the past few years.