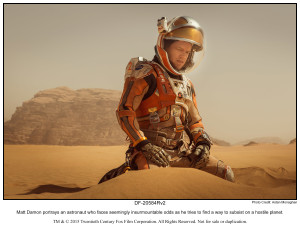 The Martian had every opportunity to be a dull, depressing chore of a movie. Instead, it delivers a heartfelt and exciting tale of survival on the barren red planet Mars. Mark Watney (Matt Damon) is an astronaut on a manned Mars mission when a violent, fast-moving storm causes his crew to abort its mission. During the escape, he is struck by debris and disappears into the fierce storm. He is presumed dead and awakens to find his crew is long gone. He quickly has to assess the situation and has to plan for years of survival. He is alone, millions of miles from home with severely limited air, food and water, and no means of communication with Earth.
I am typically not a fan of survival movies; I didn't like Cast Away, wasn't a fan of 127 Hours and thought Gravity was decent, but I didn't have any urge to ever sit through it again. My main problem with these movies is they get so dark and serious and by the halfway point you are just ready for them to either die or get rescued so you can move on with your day. The Martian is a breath of fresh air (despite Mars' lack of oxygen) because the main character never gives up hope, even when the situation can't get any more dire. He often smiles and cracks jokes, but is also realistic about his situation and his odds of survival.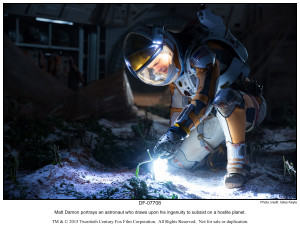 Watney is an amazingly-written character and his survival skills are second to none. I heard the author of the novel (Andy Weir) refer to him as "MacGyver in space," which really sums him up perfectly. From what I understand about the movie, the science is pretty accurate, but even if that wasn't the case, it's very believable. Some of the scenarios are far fetched, however an astronaut on a manned Mars mission would presumably be the best of the best and ridiculously intelligent, resourceful and industrious. Mark's attitude remains tremendously positive throughout the movie, never giving in to what I imagine would be crushing loneliness and despair. Damon makes this character extremely entertaining, funny and heartfelt, allowing the viewer to become fully invested in the story. You cheer for every success and weep for every set back. This is definitely my favorite performance from Matt Damon since The Departed.
The supporting cast in The Martian is out of this world. Even though Matt Damon carries most of the film, he is backed up with a NASA team, as well as the Ares 3 crew that leaves the planet during the storm. Sean Bean, Jeff Daniels, Chiwetel Ejiofor, Kristen Wiig (playing well against type) and Donald Glover make up the NASA support team. Daniels is the director of NASA and is sometimes a bastard, sometimes a hero, but always a very sympathetic character. He is deeply concerned with Watney, but he must also consider the well being and survival of NASA as a whole. The remaining crew of the Ares 3 is wonderfully played by Jessica Chastain, Michael Peña, Kate Mara, Sebastian Stan and Aksel Hennie. It feels like there is an authentic bond between these five, as if they actually experience these life changing events, love each other and each mourn the loss of their colleague and friend. Periodically stepping away from Mars to NASA and the Ares 3 keeps the pace of the movie changing so it never drags.
The cinematography of this film is absolutely breathtaking. The portrayal of the landscape of Mars is desolate and beautiful. The vast empty terrain really fosters the feeling of utter isolation and loneliness. It's simultaneously terrifying and stunning. Mars is more than a backdrop, it is a character in this film.
As a long time fan of Ridley Scott and sci-fi movies, I highly suggest checking this one out. The film has the big blockbuster moments and is able to tell a very engaging tale of survival on a planet that is completely devoid of life. It is about never giving up in the face of seemingly insurmountable trials. There are moments when I laugh so hard it hurts and there are moments where I feel despondent over Watney's journey. You feel his terrible loneliness and isolation, but more than that you feel his infinite hope. The Martian is an incredibly engaging story mentally and emotionally and is extremely visually striking, making it appealing to almost any moviegoer.