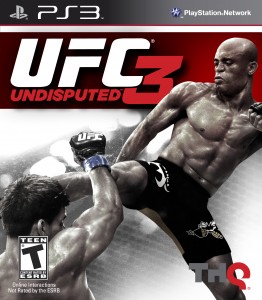 The most important thing I can say about THQ's UFC Undisputed 3 is this: If you follow Ultimate Fighting Championship closely, you will love this game. If you don't follow UFC, this game will at the very least pique your interest in mixed martial arts combat. Never before has UFC seen such an authentic transition into the video game world than with UFC Undisputed 3.
Having played the previous two UFC Undisputed games, I noticed some new things right away. For starters, there's a brand new soundtrack on this game, and to call it absolutely epic would be a severe understatement. I can't express how much I love the music in this game, which is both cinematic and energetic, and the perfect way to get pumped for a fight.
As in previous UFC games, Undisputed 3 has the standard list of options; exhibition mode, tournament mode, title fight mode (which is basically an arcade-style setup where you beat enough guys and win the championship), career mode (more in depth than title fight mode, as it allows for character customization and stats management) and several other modes that have made the UFC game franchise what it is today.
Another notable difference right away is the presence of Pride Fighting Championships, which brings a little bit of MMA nostalgia to the  game. In fact, you can choose to fight in Pride arena's (and under the more lenient Pride regulations) or in UFC arenas. It truly adds a special touch to the game by acknowledging the accomplishments of this now-defunct promotion.
Character customization and creation is also back, with a few minor improvements. For example, you can now create and add your own logos to shorts, trunks, t-shirts, etc. You can also assign specific entrance animations, winning animations, character introduction animations, entrance music and other features to create truly unique fighters. And your customimzed characters and logos can be uploaded to THQ's servers to be downloaded by other UFC enthusiasts around the world.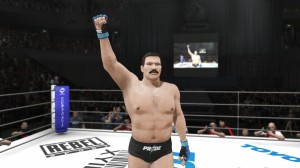 Now let's get down to the nitty gritty of the overall game presentation and gameplay. First of all, if you've played a UFC game before, you know how authentic the music, sound effects, character models and commentary are. In fact, the level of authenticity far surpasses any other sports game, and here's why. Before I played a UFC game, I had never seen a UFC event, live or televised. But after the first game piqued my interest in the UFC product, I decided to head down to my local drinking establishment and check out UFC 124. To my surprise, it was just like the game. The music, the commentary, the presentation, the camera angles; it was all identical. Talk about authenticity!
THQ has always managed to make MMA gameplay feel smooth, easy to learn and amazing. And with Undisputed 3 THQ has completely stepped up its game. It is now much easier to do ground transitions and ground takedowns, and the submissions system has been completely revamped into a very enjoyable, thrilling experience. The gameplay is fluid and authentic and helps bring you even further into the world of UFC.
If you love sports games, love watching MMA or love great, competitive gameplay, this game is a must-buy for you. Never before have reality and video games been so close when it comes to the world of mixed martial arts.
UFC Undisputed 3 is available for PlayStation 3 and Xbox 360. Rated T. www.ufcundisputed.com.
Review by Dan Kemp