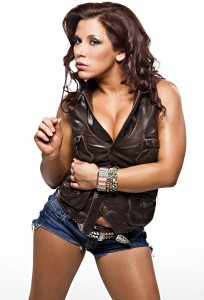 As the only person to ever hold the WWE Women's Championship, WWE Divas Championship and Total Nonstop Action Knockouts Championship, Mickie James is one of the most talented women to ever step into a wrestling ring. Though she's been out of the title picture for quite a while, and came up short against current Knockouts Champion Velvet Sky on Impact Wrestling last Thursday, James still has reason to celebrate. On this Thursday's Impact she teams up with Taryn Terrell to take on longtime rivals Gail Kim and Tara. And next Tuesday sees the release of James' second album Somebody's Gonna Pay, a rocking collection that includes her TNA entrance song "Hardcore Country". Wrestling with Pop Culture talks to James about the upcoming TNA Slammiversary pay-per-view, her new album and her recent reunion with Trish Stratus.
You came up a little short in your Knockouts title match last Thursday, but that crowd sure was into your match against Velvet Sky.
It was insane. I could have sworn someone was starting the wave or there was a person running around going, "Hey, everybody yell" or a fight had broken out. All of a sudden it just started to rumble. It's very rare that you get a feeling like that. I've had that feeling in England a few times and, obviously, at WrestleMania, but to have that crowd come alive like that is incredible. I don't know if it was the match or if there was somebody streaking, but they were loud the whole time and it was awesome. They were really into it and it was almost a shock to both of us because we were like, "Whoa, wait. Is that for us? What's happening?" They had been pretty hot all night, but it was a slow build and they really came alive for that match. It was awesome. As soon as the bell rang they just started to rumble.
It was clearly a great match, but it seemed like even you were a little surprised by the way it ended. Were you possibly in the ropes a little bit when Velvet rolled you up for the pin?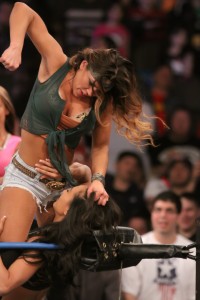 I think I was a bit tangled up in the ropes, but I'm blaming my loss on the fact that earlier that day I was at the airport and my flight was delayed. I was a little bit upset and in search of a plug because my cell phone was dying and I walked into my own bag and knocked my pinkie toenail completely off. I know Velvet has a knee injury, but oh, my God, it hurt so bad. So I think that threw my balance off. But I'm not really blaming it on that. I don't know. It felt like I was a little tangled in the ropes, but ODB counted 1, 2, 3, so what can you do?
It had been a little while since you had been in the title picture. With Slammiversary coming up in about a month, do you know where last Thursday's loss leaves you heading into that pay-per-view?
I don't know where it leaves me. It obviously leaves me hungry and wanting more and I still want the championship. I feel like I pretty much dominated that whole match and she got lucky. I love Velvet to death and she's my friend, but at the same time I know that I'm Mickie James, a kick-ass wrestler. I'm the champion of champions, for goodness' sake. I can't believe I lost! I don't want to be a sore loser, but at the same time I do want that championship. If there's a chance for me to get it or to go for it again, I certainly will take it. I don't know where Slammiversary is headed, but I'm hopeful.
It was interesting to see three women in the ring (you, Velvet and ODB as referee) who all came up through the independent scene together and are now in one of the most competitive women's divisions in wrestling. How does it feel for all of you to be at this level now?
It's a good feeling. It's good to see people who actually set out to make in this business, who have a true passion for this business, to all stand in the same ring with a crowd like that roaring underneath you and have that kind of emotion in the palm of your hands. It's humbling to know how hard each of us has worked to get there. That's the most rewarding thing is to know that your sacrifices have paid off. The indie wrestling scene, much like the indie rock scene or any type of indie scene, as you're trying to come in and break through it's never easy. You work for peanuts and hope for the best and hopefully catch a big break. We've all been fortunate enough to do so.
Speaking of indie rock, you have a new album out next week. I guess it's more indie country, but it definitely has some rock flavor to it.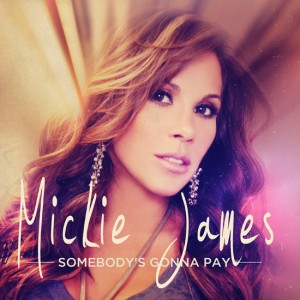 Yeah. I signed to eOne Music Nashville in September. It's not traditional country. It's more where Southern rock meets country. It's got that kind of Randy Houser/Jason Aldean sound accept with a female feel to it.
Was music something you've always wanted to do or was that something you turned your attention to after you had success with wrestling?
Music has always been a massive part of my life. I grew up on a horse farm and trained with horses all my young life. But I also played the violin for five years and I used to record myself walking around my bedroom singing my heart out. It's always been a passion of mine and I started writing when I was on the road. Instead of writing short stories or poetry, I would write lyrics to songs. It wasn't to any melody or anything because I didn't know anything about how to do that. After shows, we often have to drive 250 miles to the next town. That's a lot of time in the car by yourself, so I started coming up with my own lyrics to songs that were playing on the radio. I took chorus in school a little bit, but I was always a little shy about being out there  in front of a crowd by myself with a microphone. But being an entertainer and a performer – I took modeling and acting classes – is something I always wanted to do, but was always so fearful of. Finally after I wrote about five or six songs, I was like, "I'm just going to go to Nashville and lay down these songs just so I can say that I did it. If this demo that I make only sits on my mom's coffee table that's fine with me." So I went to Nashville and played my songs for about 20 different producers – anyone and everyone who would actually take a meeting with me and listen and consider it. I met with Kent Wells, who produced Dolly Parton's last album, and he was like, "I totally get it. This is awesome. I think we can take two or three of these songs that you wrote, vamp them up with some killer music and make an album. You're a great singer, you have a unique story and you're something country music's never had. It needs something different."
I'm not Carrie Underwood, where I can sing these massive beautiful ballads all day long. But I do have that rock edge to me where it is a little bit rough around the edges, because I'm a little bit rough around the edges. So I released the first album on my own and learned a lot. Then I went back into the studio to do a second album. At the time is was going to be a self-released EP, so I went in the studio with Jamie Lee Thurston, who is a killer guitarist, and wrote some songs with him and Porter Howell, who used to play with Little Texas. While we were recording, my management started talking to different labels and that's where eOne came in. They took five of the songs Jamie did and sent me back in the studio with R.S. Field, who doesn't do a lot of country but had just done that Uncle Lucius album. So I listened to it, met with R.S. and got a feel for how he wanted to round out the album. We added one more song that I wrote and put my entrance music on there as a bonus track. We got some more killer songs from some other killer songwriters like Bridgette Tatum, who wrote "She's Country" for Jason Aldean. She wrote "A Good Time," which is a good party song on my album. It's ironic because "Somebody's Gonna Pay," the title track and lead single, is one of those songs that R.S. kicked out and I loved it. I loved the lyrics, I loved the song, but I didn't know if I could sing it because it was very old, traditional country. I just didn't know if I was capable of twanging it up that much and he was like, "No, we're going to throw seven guitars on it and it's going to be Southern rock and soul kind of stuff." I just trusted him with everything. That song selection process is the hardest out of everything because you want to find not just the songs that you can sing and that are right for you, but also the ones you think your fans are going to connect to and that're going to tell a story within the album. I probably listened to 1,000 or 2,000 songs just trying to pick these ten. And the fact that two of the songs I co-wrote made it onto the album alongside songs written by people who do nothing but write songs all day was awesome.
You also recently released a video "Somebody's Gonna Pay" that kind of takes you back to where you got your first big break in wrestling with Trish Stratus. How did that come about?
I actually called her and was like, "Trish, would you consider being in my video?" They were looking for a tie-in to wrestling without being too hokey and cheesy about it. So it was a big favor I called in and she was like, "Oh, my God. Of course! I'd be honored to come down and do that." So she came down from Canada and Nick Aldis (Magnus from TNA) came down, and we filled up the bar with all my friends from Nashville, my managers, fellow songwriters and singers. And obviously we hired some cute little models, who were precious. That was directed by Blake Judd, who just did a full-length about Shooter Jennings that won some awards. I met him when I did a cameo in Bucky Covington and Shooter's "Drinking Side of Country" video, so it just worked out really well. Blake is a wrestling fan, so he'd talk to me about the old-school wrestling he watched growing up.

Given the obsession you had with Trish when you made your WWE debut, how did it feel to see your idol inducted into the WWE Hall of Fame this year?
It was really incredible. I couldn't be happier for her. I think she completely deserved it and I was just disappointed that I couldn't be there in person. Not only is she a genuine friend, but I really admire her for her strength and her ability to break outside of the mold of coming in as a fitness competitor and really growing within the business. Lita's incredible and I know that one day she's going to be in there as well. She came up the same way I did, working her way up through the indie scene to become the star that she is. But Trish came in as a fitness model that a lot of people didn't give a lot of credibility to. But she took the time and effort to not just learn, but to become one of the best. I was really fortunate to work with her when I first came in because there was a lot of stuff that I learned from her and a lot of stuff she learned from me. I didn't know anything about which cameras to look at, but there were little intricacies about wrestling that she didn't know. And to see a friend get such an accolade, and to know that she was going to announce the baby at the ceremony was such an honor.
WWE recently added a Mickie James page to the alumni section of its website. Do you know why you weren't on there already or why you were recently added?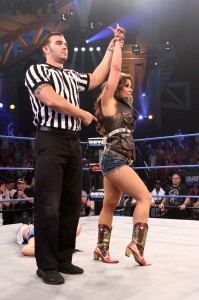 I didn't even realize I was missing. But it's cool of them to still recognize the people that were there and had a bit of history there. There were certainly some moments when I was there that I think people will remember forever, at least the fans of that era. So it's cool to be recognized and remembered for that.
The end of your stint with WWE wasn't the most flattering part of your career. Do you think you'll ever return to WWE if for no other reason than to redeem yourself a little?
No, it was not the most flattering part of my career. You never know, do you? That is not the way that I wanted to go. It was heartbreaking for that to be my exit because I thought something different was going to come out of that. But things happen and I've grown a lot since then. I'm approaching life with a whole different attitude, so it's just one of those things. I do feel that there were some awesome lessons learned from all of that. Bullying was such a major issue then, and still is now, so I felt like Michelle McCool, Layla and myself made that into something special. I just made the most of it and tried to make it amazing and make great television. You have to take whatever you're given, own it and make it the best you can, and I think I did that. But it was an uncomfortable awesomeness.
You often perform concerts at nearby venues after TNA house shows. Now that Impact is on the road, do you still perform after the wrestling shows?
I've done a few afterparties. We may do a couple more. I just have to find the right deal and the right balance of what's going to work the best. We did a handful of afterparties as a test run to see which cities were drawing, what the best format was and how we were going to do. It seemed to work pretty well, but people are so exhausted by the time the wrestling shows are over it's almost working uphill to try to get them to come out to another place after they've already spent a lot of energy at the show itself. But, yes, we do plan on doing that again sometime soon. We're looking at trying to line up some tour dates and shows around the release of this album.
You've shared the stage with some heavy hitters in the country music world. Were those festival performances or have you actually toured with some of these acts?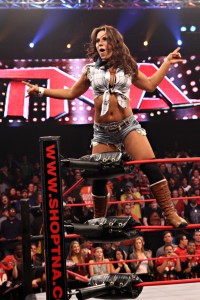 I've gotten to open for Gretchen Wilson, Montgomery Gentry, Randy Houser. I feel like my music is kind of similar to Randy Houser's, so it was really cool to watch him perform and see how he works the crowd. They were all awesome shows and it's cool to be part of things like that and just sit back and learn how they make their sets flow and all those little things that I'm still learning. I did a big country festival in Richmond with Gretchen and Montgomery Gentry as headliners. That was with my first album, so the local country radio stations knew who I was. I had been in there several times to do interviews for WWE, so they called me about that. The Randy Houser deal was in Richmond as well, so those people had seen me perform at that country festival. I was also supposed to open for Darius Rucker from Hootie & the Blowfish, but it didn't stop thunderstorming until 7 o'clock and the whole thing got scrapped. I really wanted to meet him and watch his show, so that bummed me out a little bit. Hopefully with this second album I'll get more opportunities like that.
You've also appeared at the Days of the Dead and Chiller Theatre. Do you have any such appearances coming up?
I'm not huge into horror films, so I was freaked out for at least a third of the time at Days of the Dead. When the It clown came by, I was hiding behind my chair. No, I actually took my picture with him and did the whole fangirl pics with people, walked around, met a few people and really marked out for Danny Trejo. Those things kind of come up if it works with my schedule, so I don't know when I'll be doing another convention like that.