When UFC 141: Lesnar vs. Overeem got under way on Dec. 30, 2011, it seemed the biggest news that would come in the aftermath of the main event would be who the number one contender to Junior dos Santos' UFC Heavyweight Championship would be. But as we all now know, it would end up being Brock Lesnar's last fight in an Ultimate Fighting Championship octagon (allowing his recent return to WWE).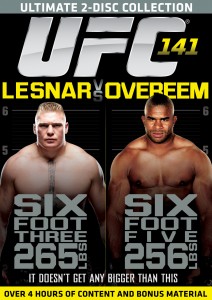 As this Ultimate 2-Disc Collection shows, UFC 141 offered a lot of hard-hitting mixed martial arts action well before the heavyweight main event was even close to getting underway. The first disc features the main card, which begins with a featherweight bout between former Ultimate Fighter competitor Nam Phan and the undefeated Jimy "The Kid" Hettes. Though Phan takes it all three rounds, Hettes dominates the entire fight, extending his streak to 10-0 via unanimous decision.
Next is a light heavyweight fight between Belarusian veteran Vladimir "The Janitor" Matyushenko and Sweden's Alexander "The Mauler" Gustafsson. Unlike the previous fight, this one ends about halfway into the first round when Matyushenko runs into what would otherwise have been a Gustafsson jab, giving The Mauler an opportunity to pummel his opponent into a TKO victory.
The third bout shows Johny Hendricks making short work of one of UFC's most celebrated welterweights Jon Fitch with a surprising knockout punch only 12 seconds into the first round. On the opposite end of the spectrum is the co-main event, a lightweight fight between the cocky and aggressive Nate Diaz and bull rider-turned-fighter Donald "Cowboy" Cerrone.
Unlike most of the other fights on the card, there seems to be a legitimate dislike between Diaz and Cerrone, which only adds to the excitement. And it's not often that you see a UFC fight go all three rounds, let alone two on the same card. But Diaz and Cerrone not only take each other to the limit, they also put on a display that earned them both Fight of the Night honors. With Cerrone taking Diaz off his feet several times and Diaz landing numerous hard punches and kicks, this one really could have gone either way. But in the end it's Diaz who walks away with the win via unanimous decision.
The main event pits the highly decorated Dutch powerhouse Alistair Overeem making his UFC debut against former UFC Heavyweight Champion Brock Lesnar. This being Lesnar's first fight back since not only losing the title to Cain Velasquez, but also after overcoming his second bout with diverticulitis, it appears as if Lesnar is back in fighting condition. The fight gets off to a solid start, with Lesnar opening up Overeem just over his right eye early on. With the crowd solidly behind him, it soon becomes apparent that Lesnar is not 100 percent when Overeem lands a kick to his gut that sends Lesnar reeling in pain. Overeem takes advantage of this opportunity and lands numerous shots to Lesnar's body to attain a TKO victory in the first round. After the fight, Lesnar shockingly announces his UFC retirement.
Also included on this two-disc set are the Countdown to UFC 141, which provides some background on all the fighters and fights on the card, and the weigh-in show, which shows a bunch of muscular guys stripping down to their underwear to weigh-in for the fights. The weigh-in offers additional insight into some of the fights, most notably the Diaz/Cerrone encounter since Diaz was forced to work off an extra pound before entering the octagon.
The second disc also features five action-packed preliminary bouts, all of which go all three rounds and come down to very close decisions. It also includes a behind the scenes package and the Ultimate Insider, which provides even more looks at what UFC fighters do leading up to their matches.
For more information, go to www.ufcstore.com.